Staff and students recognised at Antibiotics Awareness Awards
14 Jun 2017
Roger Harrison and Lydia Bagg have won two national awards as part of Public Health England's programme on antibiotic guardianship.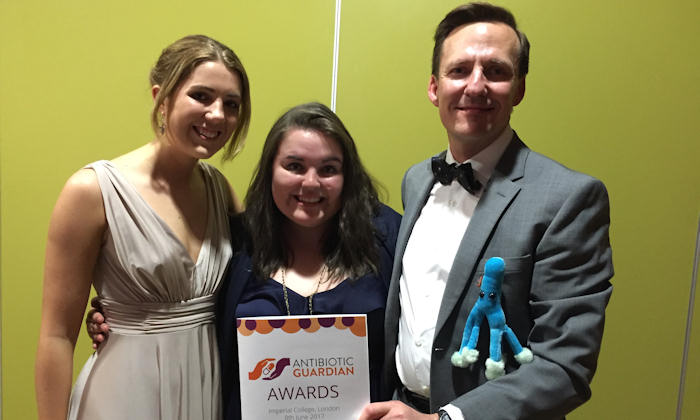 Roger, the Social Responsibility lead for the Division of Population Health, Health Services Research and Primary Care, won in the Community Communications category, for his programme of work across the University of Manchester as a whole. Meanwhile Lydia, a third year medical student, was awarded National Healthcare Student of the Year, for her innovative workshops delivered in local primary schools, made possible by a small grant from the Learning Enhancement Fund. 
Clarissa Hemmingsen, a first year medical student and President of the Global Health Society was also named at the awards ceremony for contributions to reducing antibiotic resistance at a global scale.
Roger Harrison, said: "These awards reflect the build-up of two years of hard work, and wouldn't have been possible without support from David Allison in the Division of Pharmacy & Optometry, Grace Watson & Isabel Gurbuz in the Students' Union, and Will Welfare at Public Health England (North West). 
"We also owe a big thank you to Mahesh Nirmalan, Vice Dean for Social Responsibility in the Faculty of Biology, Medicine and Health for enabling us to attend the ceremony". 
David Allison, School of Health Sciences Director for Social Responsibility added: "This is a fantastic and truly deserved award, recognising the efforts that Roger and team have put in to raising awareness about Antibiotic Resistance Development.
"These successes have helped get Antibiotic Resistance established as a Flagship Programme through the Social Responsibility agenda at the University - more to follow on that over the coming months." 
For further information visit: