Undergraduate University Wide Open Days, 23 & 24 June
13 Jun 2017
With the undergraduate open days fast approaching, staff may receive queries as to what is taking place on the day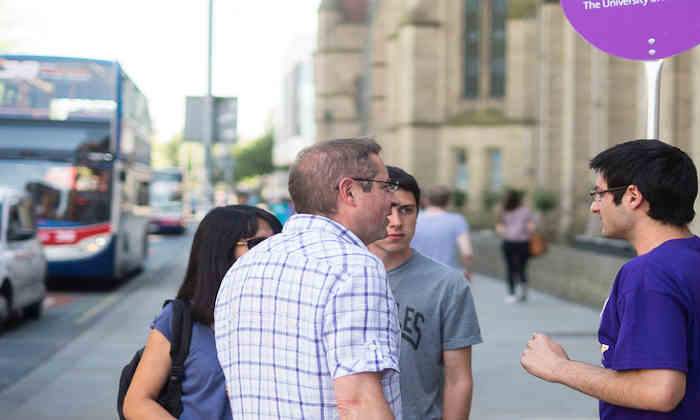 With this in mind, we have outlined some key information which you may find useful when speaking to prospective students.
Registration
Students do not have to register when they arrive and can head straight to their first session. All activities and talks are advertised in the programme and all talks are delivered on a first come, first entry basis – no talks require advanced bookings. All guests who have registered on the open day website have been sent a copy of the programme and can begin planning the sessions they would like to attend in advance.
Student Experience Exhibition
In Whitworth Hall there will be various information stands with staff representatives, which include:
Accommodation 
Living at Home in Manchester (SU)
Study Abroad
Disability Support
SPORT
Student Support / Student Finance
The University of Manchester Library
Student Life 
IT
UMASS 
Parents' info
Volunteering
Heritage
University College for Interdisciplinary Learning
Ethical Grand Challenges
Students' Union
For any enquiries you receive, highlight the exhibition as a great opportunity to speak to staff from a variety of services.
General talks
There will also be general talks running on both days, including: 
Introduction to the University
Accommodation Panel
Adult Returners to Education
Language Courses to Complement Your Degree (LEAP)
Student Life
Parents' Info Session (open to parents only)
Student Finance
Study Abroad
More details can be found in the programme.
Subject talks 
Subject specific talks will be running on both days and we recommend to prospective students to prioritise these sessions ahead of the general sessions. In addition, subject specific stands are also available to visit on the day, but please note these are often not in the same building as the subject talk. However, the programme advertises this information and ambassadors will also be present on campus to help guide guests to their buildings.
Accommodation tours 
We have three options available with regard to learning more about student accommodation:
Option 1 – accommodation stand in the student experience exhibition in Whitworth Hall
Option 2 – accommodation talk. This will include a panel of three students who have lived in city, Victoria Park and Fallowfield accommodation. 
Option 3 – accommodation tours. Please direct visitors to the area outside The Manchester Museum. Buses will pick visitors up from this point and take them up to Fallowfield. There will be an open house in Ashburne and Sheavyn. Ashburne is a catered hall with shared facilities, and Sheavyn is a self-catered hall with ensuite facilities.
Accommodation tours will be busy, with long queues expected. Please encourage visitors to consider options 1 and 2 and make people aware of alternative ways to view accommodation, such as the accommodation tours that run every week between October and March. Please note that the Accommodation Open House no longer takes place. 
Campus tours
These will leave from the grass outside the Learning Commons and are advertised from 9.30am. Tours will last approximately 30 minutes.
Buses
The 147 will be running between Piccadilly Station and the Kilburn building. For times, please see the programme.
Please note that for those visiting on the Friday, they will need a bus voucher which can be downloaded and printed from the open day travel website. 
Competition
We are running a social media competition on the day. Visitors can tweet us a picture at #UoMOpenDay to win a prize.