Summer Proms Extravaganza a family-friendly hit!
13 Jun 2017
Relaxed Performance at the Martin Harris Centre receives high numbers of visitors of all ages.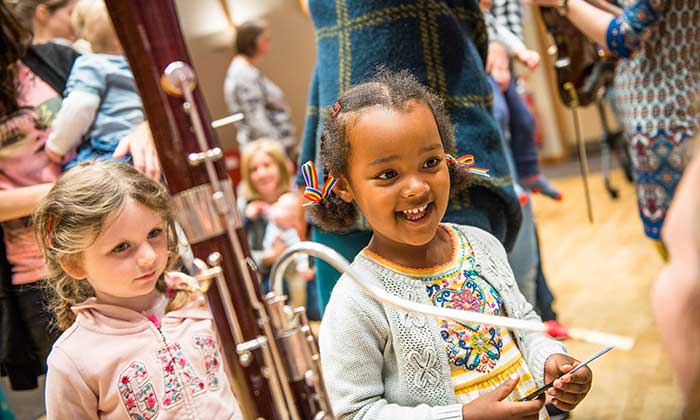 On Wednesday 7 June the Martin Harris Centre hosted its second "relaxed performance" - a Summer Proms Extravaganza.
A relaxed performance is an event which is designed to be more informal than other events and more welcoming to those who might not usually attend concerts or performances. Small changes, such as leaving the house lights on and allowing visitors to move around the concert hall throughout the event can create a more friendly environment for small children, people living with dementia, and those with physical or learning disabilities.
Last Wednesday's relaxed performance was a Summer Proms Extravaganza with orchestral and vocal performances from the Manchester University Music Society and hosted by Simon Ruding from the Drama department. Well-known classical pieces were played for the audience to listen to, such as In the Hall of the Mountain King by Grieg, and then popular songs from The Beatles were performed by a choir with participation from the audience. 
The event was particularly well-attended by parents and young children who were able to meet the performers and handle the instruments. Children joined in with their own instruments or waved Union Jack flags with great enthusiasm! The freedom to move around the concert hall meant that visitors were able to come and go as they wished which was especially popular with energetic children!
Visitors complimented the fun and relaxed atmosphere of the event and thanked the Music students for showing such a warm welcome to children and babies.
The event was presented as part of the Martin Harris Centre's campaign to become a more accessible arts venue.
Further information: