John steps up to help preserve St Ann's Square tributes
12 Jun 2017
Landscape Foreman John Bolton volunteered to relocate the many tributes left after the Manchester attack on the evening of Friday, 9 June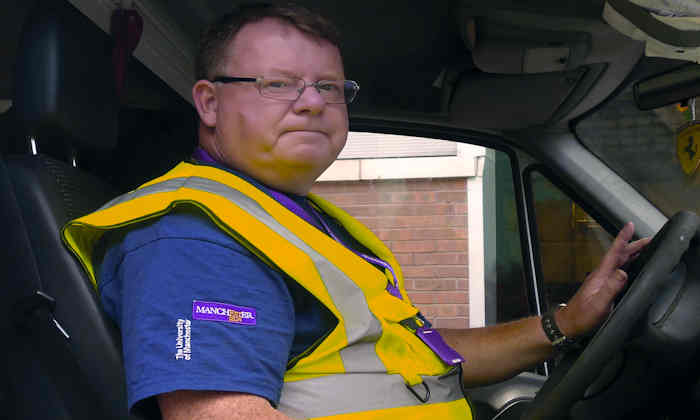 The sight of St Ann's Square transformed by floral and other tributes was an indelible image which came to symbolise the city's response to the appalling attack on Manchester Arena during which 22 people lost their lives and countless others were injured.
However after working hard to maintain and preserve the many tributes for nearly three weeks, Manchester City Council announced that the time had come for them to be relocated. 
In the spirit of generosity, Landscape Foreman John Bolton from the Environmental Services Unit volunteered to help out after finishing his day's work at the University.
John was given permission to use his University van to transport flowers, toys and football shirts to two locations in the city centre.  It was a logistical task requiring a lot of organisation, with John working several hours into the evening to finish.
What's even more remarkable is that John was back in work on Saturday morning, doing his normal shift.
John said: "I  thought if I could help out in some way, that it's a nice thing to do. As a Mancunian and someone who's worked at the University for 26 years, I'm very proud to see how everyone's come together since the attack."
John's line manager Paul Shaw said: "It's typical of John's commitment that he offered to do this in his spare time and I know that Manchester City Council have been very grateful for the support we've been able to offer.
"As a fellow Mancunian horrified by the attack on our city, I'd like to thank him - he's a credit to our team and Manchester."
The flowers that are still in good condition will be pressed and preserved by Manchester Art Gallery's Conservation Studios, with some used in memorial books to be presented to the families of the 22 people who lost their lives in the attack. 
Pot plants left in the square will be replanted across the city centre and any remaining flowers and other plants which are in a worse condition will be used for compost, to help new life flourish. 
Soft toys and other non-perishable items such as football shirts will be cleaned and dried and plans will be put in place to distribute them via children's charities. 
Arrangements are also being put in place by Manchester Central Library's Archives and our Manchester Museum teams to preserve messages left on cards in the square.