FREE event for budding female entrepreneurs
26 Apr 2017
Join the Manchester Enterprise Centre for a day of workshops in conjunction with beauty brand Soap & Glory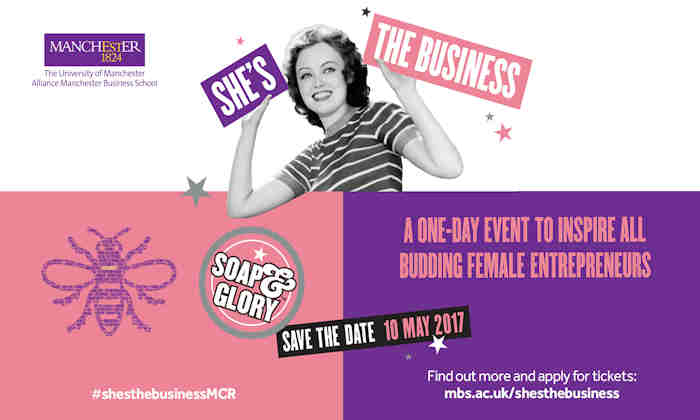 She's the Business – a free event on Wednesday 10 May – will feature interactive workshops and top speakers and is designed for women who would like to start their own businesses or who are in the early stages of doing so. Applicants will be selected on their personal motivation for starting a business and the stage they are at in setting up their business (early stage, mid-stage or late stage).
Registration and ticket details are on Eventbrite.
Guest speakers
Former Enterprise Editor of The Sunday Times, Rachel Bridge, will be in conversation with Jane Field, founder of Jonny's Sister and Wendy Shand, founder of Tots To Travel. Jonny's Sister is an online retailer specialising in British-made, personalised gifts and Tots To Travel focuses on holidays with children. All three women have created their own successful businesses and will offer invaluable insight into starting companies and entrepreneurship. 
Other speakers include:
- Aneeqa Khan, Founder of Eporta
- Sarah Hiscox, Co-Founder of Braid Bar
- Sandy Mayo, Global Category Director, Soap& Glory
Workshops
- She's Confident: How to swerve those nerves
- She's the Creator: How to kick-start kicking ass!
- She's Happy: How to balance work and play
- She's Social: How to launch and maintain your digital presence
About Soap & Glory
Soap & Glory was founded in 2006 by a maverick 'soaper-woman' whose mission was to formulate fun, world-class quality beauty products that would give 'every girl the best bang for her beauty budget'. Ten years on, the brand is loved the world over and can be found in Boots stores throughout the UK and in other retailers across the globe.