RAEng Visiting Fellow provides a glimpse of the 'forgotten nanoscale'
19 Jan 2017
Dr Qian Chen has given a lecture at the University on the 'forgotten nanoscale' as part of her Royal Academy of Engineering (RAEng) Fellowship visit to the UK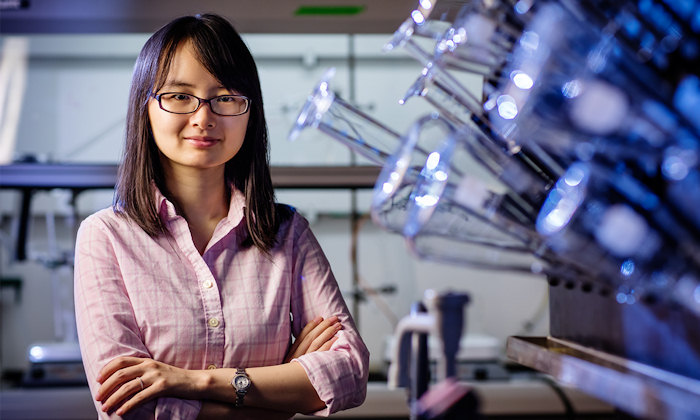 A large audience of students and academics from the Faculty of Science and Engineering gathered on the afternoon of Wednesday, 18 January to hear Dr Chen, who is Assistant Professor of Materials Science and Engineering at the University of Illinois at Urbana-Champaign. In her lecture, she explained how liquid-phase transmission electron microscopy (TEM) can be used to image self-assembly dynamics at the nanoscale.
The self-assembly of nanoscale building blocks can be used to construct complexity in biology and engineering, producing extremely rich phases, reconfigurability and associated functions. Yet the quantitative prediction of their ensemble architectures and formation kinetics remains a challenge due to technical impediments.
Dr Chen discussed the use of a nanoscopic imaging technique, known as liquid phase TEM, to directly image the self-assembly of colloidal nanoparticles in a solution, one-by-one in real-time.
Depending on solvent conditions, a single type of anisotropic nanoparticles can lead to a wide variety of final structures not previously predicted including linear and cyclic 'polymeric' chains, hierarchical plastic crystals, and highly ordered solids. The in-situ monitoring of dynamic pathways, together with computation reveals interesting and novel phenomena in these systems, due to inherent many-body coupling and discreteness at the nanoscale.
"We expect our work in this area to open new opportunities in understanding the conformation, phase behaviours and collective dynamics on the nanometre length scale that is not accessible using other means," said Dr Chen.
Dr Chen is currently visiting the UK as part of a RAEng Distinguished Visiting Fellowship to conduct research at the BP International Centre for Advanced Materials (BP-ICAM), which links the Universities of Manchester and Illinois at Urbana-Champaign on collaborative research projects, and is supported by a $100 million ten-year investment by BP. 
"We are delighted to be hosting Dr Chen's RAEng Fellowship visit to the UK. Through her future research working with BP-ICAM, Dr Chen will help to tackle the fouling and separation challenges faced by the oil and gas industry," said Professor Grace Burke, Director of the Materials Performance Centre at the University. "We are looking forward to future collaborations with Dr Chen and her research group at Illinois, as we continue our on-going liquid and gaseous in-situ TEM studies at Manchester."
The goal of Dr Chen's RAEng Visiting Fellowship is to initiate long-term collaborations in understanding and engineering artificial and natural nanoparticle assemblies for the purpose of developing fresh, generalizable concepts in materials science and nanochemistry.