Get smart with StaffNet
24 Jan 2017
All you need to know about our Community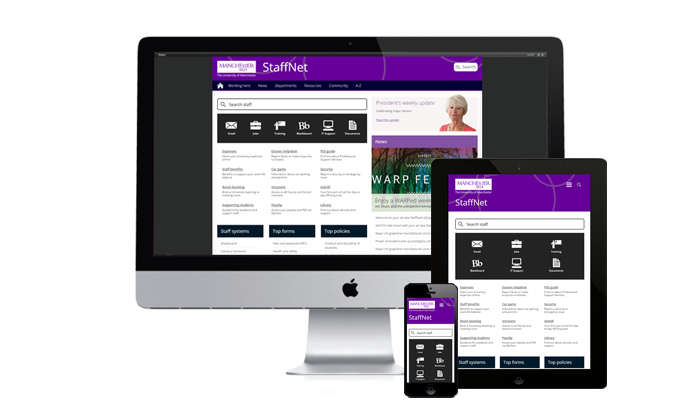 StaffNet is a hugely important internal website, giving University staff who work online the information and resources they need to do their jobs well – last year it received 3.8 million visits.
Our new version – created by the Division of Communications and Marketing last year – gives you much better access to the information and services you need and it's responsive on all your devices.  The launch has resulted in an increase of new visitors by 15%.
The top menu features a section on our Community here at the University.
The King's Fund, an independent charity working to improve health and care in England, reports that a person's social networks can have a significant impact on their health. A large international study over seven years showed that those with adequate social relationships had a 50 per cent greater survival rate compared with individuals with poor social relationships.
One click on our Community link will take you to a range of interesting activities to make an impact – and get to know people – on campus.
You can volunteer, get involved in environmental sustainability, join a society or club or a network group.
And there are a huge range of options to help you get fit, which you can see by clicking on the Health and Fitness and Staff Sport boxes.
Many colleagues agree that the new version of StaffNet is a vast improvement. Feedback includes:
"I have worked here for 20 years and it's the most informative, instant information giving tool, I have ever had access to."
Find out more
Here you can watch a film on how to get smart with the all-new StaffNet: