Get smart with StaffNet
03 Jan 2017
All you need to know about Working Here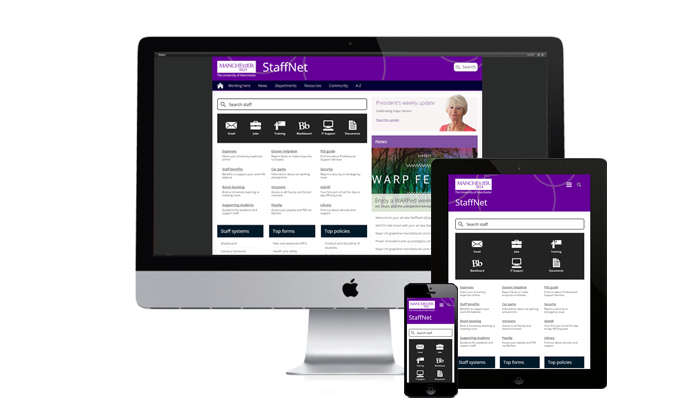 StaffNet is a hugely important internal website, giving University staff who work online the information and resources they need to do their jobs well – last year it received 3.8 million visits.
Our new version – created by the Division of Communications and Marketing last year – gives you much better access to the information and services you need and it's responsive on all your devices.  The launch has resulted in an increase of new visitors by 15%.
The top menu features a Working Here section – one click takes you to a page that sets out your choices in clear, easily navigable boxes.
The Human Resources box takes you to information and advice on all HE-related queries, from policies and procedures to career progression and staff benefits. Like many of our PSS Directorates, the HR website has also been improved to give clear information on easy-to-use pages.
EU Referendum advice for staff takes you to a site that is continually updated as information on this rolling situation comes in.
There are also boxes to take you to information and advice on First Aid, Counselling Services, Staff Learning and Development, Equality and Diversity, and Health and Safety. The Security box features the phone number, should you need to contact them directly.
Many colleagues agree that the new version of StaffNet is a vast improvement. Feedback includes:
"I absolutely love the new website.  It's user-friendly and looks so much better than that horrible clunky old website.  It's like going from the Nokia 6210 to an iPhone 6s!"
Find out more
Here you can watch a film on how to get smart with the all-new StaffNet: