Travel advice for the new year
03 Jan 2017
The first week back after the festive break is expected to be an extremely busy time, not only for the ongoing transformation of Oxford Road, but also for other developments taking place across the city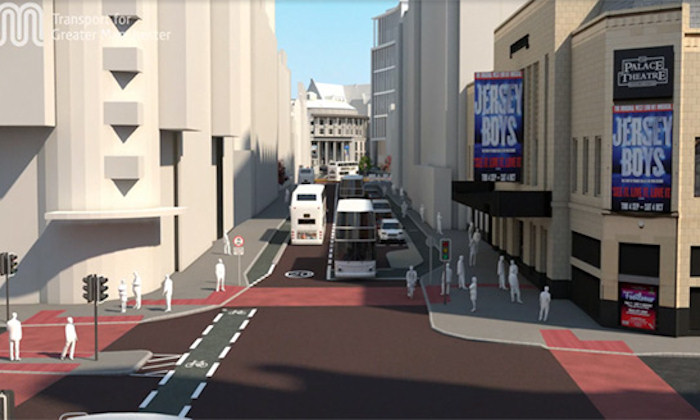 Journey times for drivers and bus passengers are likely to be adversely affected throughout January and into February, particularly at peak travelling times and especially in the evening.
Transformation of Oxford Road corridor – Wednesday, 4 January to Sunday, 8 January
Oxford Road will be closed from the junction of Booth Street up to just south of the Charles Street junction while further re-surfacing takes place. This will mostly affect local traffic, due to the operational bus gate now in place between Hathersage Road and Denmark Road. While east to west crossings of the corridor will still be possible along Booth Street, there will probably be a knock-on effect on surrounding roads.
More information can be found at:
Redevelopment of former BBC site on Oxford Road – Monday, 9 January to Sunday 12, February
Following completion of the resurfacing work on Oxford Road, Bruntwood's redevelopment of the former BBC site (Circle Square) will require the full closure of Brook Street – between Upper Brook Street and Princess Street – in order to carry out essential utility connections.
TfGM are working with Manchester City Council to help drivers avoid congestion in the area, including the provision of travel advice.
Travel advice is available at:
If you regularly use this route, you are advised to familiarise yourself with the work in advance. Manchester City Council's highway team will be signposting a diversion route for drivers but the area is expected to be busier than usual for much of the four weeks.
Metrolink's Second City Crossing and permanent new traffic priorities – Sunday, 8 January
Alongside the transformation of the Oxford Road corridor, another major project, Metrolink Second City Crossing, is also nearing completion and from Sunday, 8 January, there will be permanent changes to city centre roads to ensure that trams, buses, cars and bikes can all share the space. The changes will mostly affect Princess Street and Cross Street.
The introduction of new and permanent changes in the city, as well as the closure of Brook Street for work, could combine to increase congestion on already busy routes, especially as both will occur around the same time.
You can find more information about what's happening at:
Plan ahead and know your options
When you travel back into the city after the festive break, please be aware of the changes. Roads around the locations where work is taking place will be busier and journey times will be affected, so do plan ahead and explore alternative routes.
Travel information will be available at:
You can help by sharing these messages with colleagues and encouraging them to plan ahead if they need to be on the road or rails in the next few weeks and by retweeting TfGM's posts - @OfficialTfGM.
TfGM thank you all for your continued patience while they transform Oxford Road and wish you a very Merry Christmas and a Happy New Year.