Cancer at Manchester: A year of victories in battle against the disease
15 Dec 2016
This year is ending on a high note for researchers working in the cancer field here in Manchester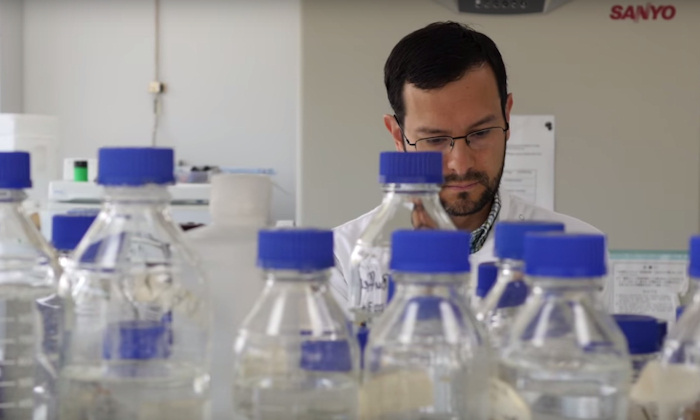 This year is ending on a high note for researchers working in the cancer field here in Manchester. With today's announcement of more than £42m of investment from Cancer Research UK, the city is now firmly established among the world's elite for finding new treatments and prevention strategies for this disease.
But this isn't the only achievement made by cancer researchers here in the city this year. 
New treatments and insights
We've made a number of breakthroughs in 2016 – helping to develop new treatments and gain greater understanding of how cancer works.
In August we revealed findings which could lead to a new test for a common childhood leukaemia, we also identified drugs to target the 'Achilles heel' of Chronic Myeloid Leukaemia cells and another study earlier in the year also identified another possible drug treatment for this form of the disease.
We have also made advances in the treatment of breast cancer, with exciting findings that a combination of two drugs shrinks tumours in 11 days after diagnosis. We also discovered how breast cancer cells spread from blood vessels to different parts of the body.
These kinds of insights are important for developing new treatments further down the line and findings that shed light on how cancer cells and normal cells communicate with each other have this potential to lead to future cures. Another study turned the idea that a certain protein is an indicator of a good prognosis on its head.
We're also refining existing treatments with one trial finding that twice a day radiotherapy halves treatment time and is equally good at treating small cell lung cancer. We've also studied how the side-effects of radiotherapy can be averted by personalising treatment.
Prevention and early detection
Catching cancer early or developing ways to change people's behaviour are among the most effective ways of combatting the disease.  That's why the statistical analysis we released last month, which shows that weight gain over many years increases the risk of obesity-related cancers in men by 50 percent and in women by almost 20 percent is important.
In September we announced a new research programme to diagnose cancers early, potentially saving many lives and saving the NHS millions of pounds. And other funds will help us devise precision treatments for lung cancer.
Funds and facilities to fight the disease
Coupled with today's £42m announcement we've also been working hard to attract new funds and build world class facilities to support our research. The news that Manchester was selected by government to be a Biomedical Research Centre with £28.5m funding attached will help support many more of the projects described above.
We've also opened a new £18m centre dedicated to finding the markers that enable quick diagnosis of diseases including cancer and more funding will expand the first national post-mortem cancer study.
One of the major scientific discoveries of the last few years, graphene, also has applications for cancer research and £5.2m of investment could potentially develop targeted drug delivery systems to attack cancer cells.
We're also working across the world, joining forces with US scientists in one of the first international collaborations inspired by US Vice-President Joe Biden's Cancer Moonshot.
In the community
That's not the only way we've been working with our global partners. In July Manchester hosted an international cancer Congress as part of the city being designated European City of Science. We've also been working in our community, creating fabric designs which were exhibited to highlight the achievements the city has made in battling the disease.
Manchester's place in fighting cancer
The new funding, announced today will enable Manchester to train 46 of the brightest minds in cancer science, support treatments based around the concept of precision medicine and run even more trials to test the effectiveness of treatments.
As Professor Dame Nancy Rothwell, President and Vice-Chancellor of The University of Manchester, said: "Manchester is now one of the world's leading research centres for cancer and this funding represents an important step forward in finding new treatments, carrying out more trials and training the brightest minds to continue this work. Working with our partners at The Christie and Cancer Research UK gives us great strength, bringing together researchers and doctors to make new discoveries that benefit of people here and around the world."