Blood testing event helps to register new donors
13 Dec 2016
NHS Blood and Transplant worked with the Faculty of Biology, Medicine and Health last week to enable staff and students to discover their blood type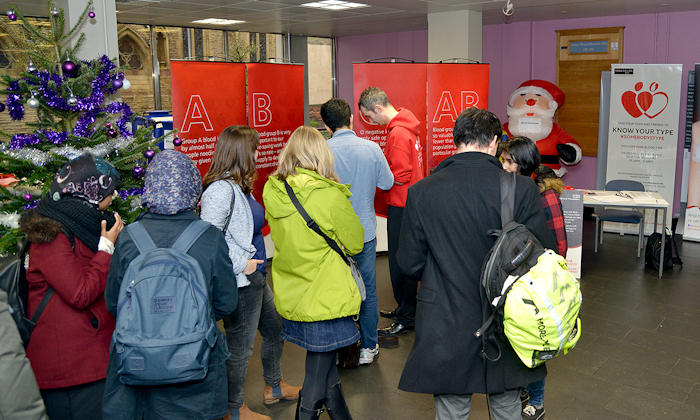 With 6,000 units of blood needed each day in the UK, the demand for new blood donors is high. The event on Thursday, 8 December helped to raise awareness of this need and many attendees made group appointments to donate blood at Plymouth Grove on Upper Brook Street.
Part of the Faculty's Social Responsibility strategy, the project, led by Dr David Allison, Social Responsibility Director, School of Health Sciences, aimed to strengthen links with the local Blood Donor Centre, located next to the University campus, allowing staff and students to make a difference.
With a continuous queue throughout the event, the Blood Donor Unit tested the blood types of around 60 people. Over 75 people signed up to donate blood in the future.
Neil Simms, the Senior Marketing Co-ordinator for Donor Centres in the North, commented on the success of the event:
"It was great to see so much interest amongst the students and staff members in registering to become a blood donor and the response blew us away really, it exceeded our expectations!
"We are looking forward to welcoming those who enrolled as donors to our Blood Donor Centre on Upper Brook Street in the coming weeks, ready to roll their sleeves up and become life savers!"
Professor Mahesh Nirmalan, Vice Dean for Social Responsibility and Public Engagement, and Dr David Allison, Director of Social Responsibility for the School of Health Sciences, commented:
"A truly phenomenal response to the blood donor campaign from staff and students which made us feel so proud of what the University of Manchester can do as an organisation that can touch and affect everyones lives."
Following on from the success of the event, the Blood Donor Centre on Upper Brook Street have reserved 60 blood donation appointments just for the University during January 2017. If you are eligible to give blood, why not make an appointment?
Further information
Further details of how to attend on your own or as a group are at: