WATCH: Take part in 10,000 Actions
07 Nov 2016
University launches the biggest environmental sustainability initiative for staff in the higher education sector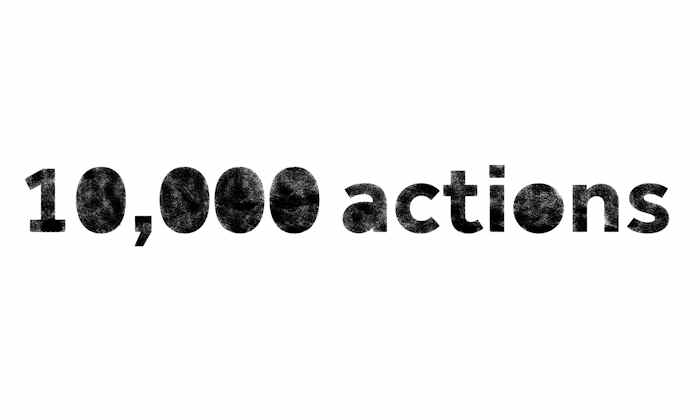 Look out for the number 10,000 appearing on campus over the next few weeks. Why?  Because The University has developed and launched the biggest environmental sustainability initiative in the higher education sector – 10,000 Actions – and you can play a part.
Many of the things you do in work are already contributing to a more sustainable society. 10,000 Actions will allow you to do even more by giving you and your 10,000+ colleagues the chance to take action on sustainability at The University of Manchester.
You'll be able to plan how you manage your environmental impact, track your progress as you complete your actions and celebrate your achievements. The more you do, the more we'll achieve together.
10,000 Actions will allow us to make a difference, individually and collectively, in tackling one of the world's grandest challenges. On Thursday, 10 November you will receive an email with details of how you can access this programme. We would like as many people as possible to spend an hour taking part in 10,000 Actions and to encourage their colleagues to do so as well. We will be publishing further information on actions taken and completion rates across the University throughout December and January.
Environmental sustainability is a priority for the University as it's central to our core goal of social responsibility. We're the only university in the UK to have this strategic focus on making a difference as a core priority.
For every action plan that is produced, £1 will be provided to support the planting of an oak woodland in Manchester, enhancing the local environment for communities and wildlife, and improving local air quality. Feedback will be provided on how much Schools, Institutions and Directorates contribute to this throughout the campaign.
James Thompson, Associate Vice-President for Social Responsibility, said: "In September the University provided all 8,000 first year undergraduate students with the opportunity to take part in the Sustainability Challenge.
"I'm delighted that we are now launching the UK's biggest sustainability initiative for staff – 10,000 Actions. This means that within two months, over 18,000 of our staff and students have been encouraged to actively engage with environmental sustainability and make a real difference."
More information
If you have any queries, contact:
Or you can visit:
To follow our 10,000 Actions activities, follow us on Twitter @UoMSust, using the hashtag #10000Actions.