bluedot is best new festival and mind blowing spectacle too!
02 Nov 2016
Jodrell Bank's bluedot festival has won awards in two categories at the UK Festival Congress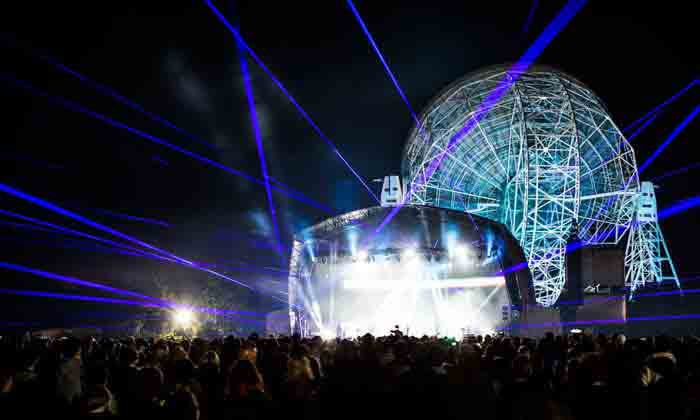 Hosted by the University's iconic Jodrell Bank Observatory from 22 to 24 July 2016, this innovative event won in two categories: Best New Festival and Mind Blowing Spectacle (for the Brian Eno installation on the Lovell Telescope). 
bluedot festival – named after iconic scientist Carl Sagan's 'pale blue dot' reference to Earth - is one of the ways in which Jodrell Bank Observatory aims to embed science as a normal part of our culture. bluedot's mission was to entertain and inspire through a weekend of groundbreaking encounters, including performances, DJ sets, comedy, talks, workshops and live experiments. Visitors camped out under the stars and explored a stellar programme of music, science, arts, technology, culture, food and film.
Director of Jodrell Bank Discovery Centre, Dr Teresa Anderson, said: "We're very proud that bluedot has won these awards, which are a tribute to everyone who worked so hard to make it a success. The festival was an experiment in bringing science and culture together in a new way, so we're delighted that it worked so well - especially in the year when Manchester hosted ESOF 2016 and was designated European City of Science. We're looking forward to welcoming everyone to bluedot 2017 next summer."
Festival Congress is the annual flagship event of the Association of Independent Festivals (AIF), the UK's leading not for profit festival trade association. The awards were presented at an awards ceremony and dinner following a two-day conference in Cardiff on 1-2 November 2016, which was attended by more than 400 music industry delegates.
If you missed bluedot, the two videos below will show you why the festival was such a winner. The first was produced to promote the nomination for the Festival Congress awards and the second for the Royal Academy of Engineering.