Manchester wins award in European space innovation competition
07 Nov 2016
Researchers from the University have won a major award in Europe's biggest space technology innovation competition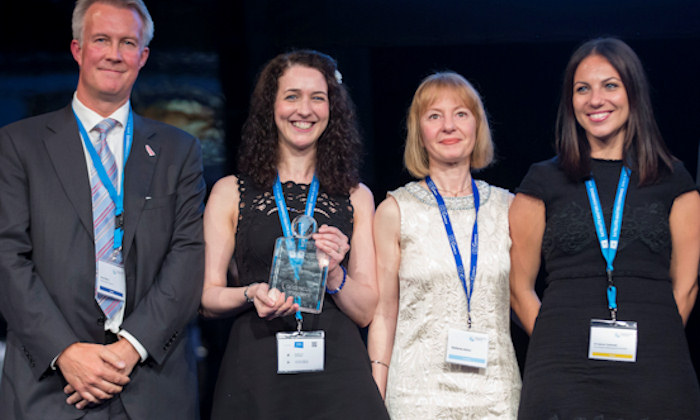 Dr Gail Millin-Chalabi, Dr Ioanna Tantanasi and Dr Stefania Amici from the School of Environment, Education and Development (SEED) won first place in the Copernicus Masters Sustainable Living Challenge, with EnviroSAR, a UK wildfire monitoring service that uses satellite Earth Observation data.
Fire and Rescue Services spend around £55 million every year fighting UK wildfires that damage unique habitats such as the UK's moorlands and heathlands, and discolour drinking water supplies creating clean-up costs estimated at around £80 million nationally every 5 years for water companies alone.
The EnviroSAR service will help to understand patterns of UK wildfires, target land management, peat restoration, reseeding and reduce water discolouration and its associated costs.
The monitoring and detection tool is based on a new analysis technique developed by the researchers to interpret Synthetic Aperture Radar and optical data, which will use the Copernicus Sentinel Earth Observation satellites to deliver 'burnt-area' imagery.
"Winning the Sustainable Living Challenge is already enabling our team to contribute and forge key connections to the Earth Observation community, through attending the excellent Copernicus Accelerator Programme and by becoming members of the Satellite Applications Catapult community," said Dr. Gail Millin-Chalabi.
"We are extremely motivated and focused to grow EnviroSAR over the coming months, using the excellent platform that winning this challenge has provided."
Other winning ideas from the UK included a low-cost early detection system for UAVs, a smartphone sleeve to enable access to the Galileo Public Regulatory Service (an encrypted navigation service for governmental authorised users), and a smart navigation device for cyclists.
"We rock at innovation here in the UK, and all of the winners demonstrate the fantastic potential for innovators to take advantage of the opportunities presented by satellite technology." said Catherine Mealing-Jones, Director of Growth at the UK Space Agency. 
"The competition itself helps to showcase and ultimately grow their ideas as businesses.  The UK is proud to have such innovators and hope that they inspire others to realise what they stand to gain by having a go."