Sir Bobby Charlton's dream of a landmine-free world takes leap forward
27 Oct 2016
The University will house the Centre for International Research for the Clearance of Landmines and Explosive (CIRCLE) to be opened by Sir Bobby's charity, Find A Better Way, using £5.5 million grant from LIBOR fund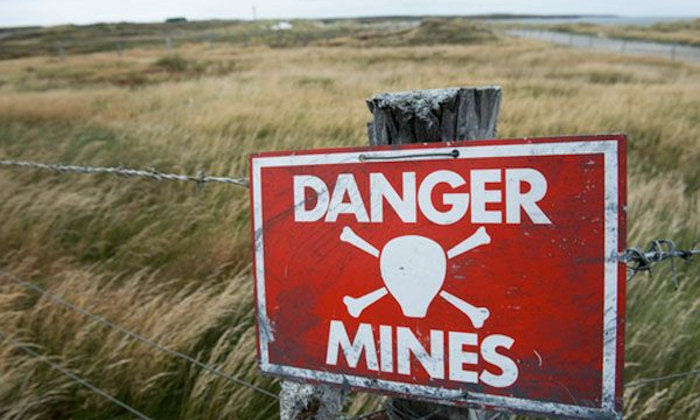 Sir Bobby Charlton is set to sign an agreeement today with the University on behalf of his charity Find A Better Way, to open the Centre for International Research for the Clearance of Landmines and Explosive (CIRCLE) in mid-2017.
A key step towards realising Sir Bobby's dream of a landmine-free world, CIRCLE will be a new, purpose built, 500 m2 research and laboratory space, serving as the hub for the growing network of Find A Better Way-funded landmine detection research projects. Find A Better Way currently funds detection research at eight universities in the UK and Croatia.
The University has been chosen to house CIRCLE because of its world-leading research capabilities in this field, including expertise in advanced screening, scanning and imaging technology involving Professor Bill Lionheart and Professor Anthony Peyton.
The University, along with other partners, has been working directly with the Find A Better Way charity to help pioneer research into better methods of detecting landmines. A key aim has been to develop smarter equipment that can distinguish between the tiny bits of metal used in a landmine and other metallic fragments buried in areas where landmines could be also found.
Landmines and other explosive remnants of war (ERW) continue to cause social and economic disruption in former conflict zones decades after fighting stops. Every year, large numbers of civilians, including a disproportionate number of children, are injured or killed. ERW are thought to be present in 60% of the world's territories and countries and, tellingly, the Belgian bomb disposal agency continues to recover between 150 and 200 tons of unexploded ordnance still in the ground from World War I every year.
Despite the fact that modern anti-personnel mines are almost entirely composed of plastic, basic metal detection remains the main tool of deminers in the field. It is estimated that with current technology, clearing all currently deployed landmines and ERW worldwide will take up to 1,000 years. After seeing the problem first hand while visiting a Cambodian minefield in 2008, Sir Bobby decided he must help Find A Better Way.
CIRCLE has been founded in the belief that by embracing scientific advances it is possible to significantly improve demining equipment and related techniques, and that the excellence of the UK science and research community can be the vehicle to deliver this change. The University recognises the need for a focal point for the international scientific community, and for providing a principal driver for the mission of Find a Better Way research in demining equipment, processes and techniques. 
Professor Martin Schröder, Vice-President and Dean of the Faculty of Sciences and Engineering, said: "I am thrilled and delighted that the University can work closely with the charity Find a Better Way to develop and deliver the Centre for International Research for Clearance of Landmines and Explosives (CIRCLE). This Centre brings together our vision for world leading research and teaching with our agenda on social responsibility showing that cutting-edge research can deliver real benefits for the world, especially for those living in war zones and areas of conflict."

The University's commitment to radically improve landmine detection dates back to 2012 when an All-Party Parliamentary Group on Landmines and Unexploded Weapons of Conflict visited the campus on a fact-finding tour.