Danielle George helps the BBC celebrate the birth of British TV
13 Oct 2016
The University's Professor of Radio Frequency Engineering will return to our screens to help celebrate the 80th anniversary of the first broadcast on British television as co-presenter alongside presenter Dallas Campbell and mechanical engineer Dr Hugh Hunt in 'Television's Opening Night: How the Box was Born'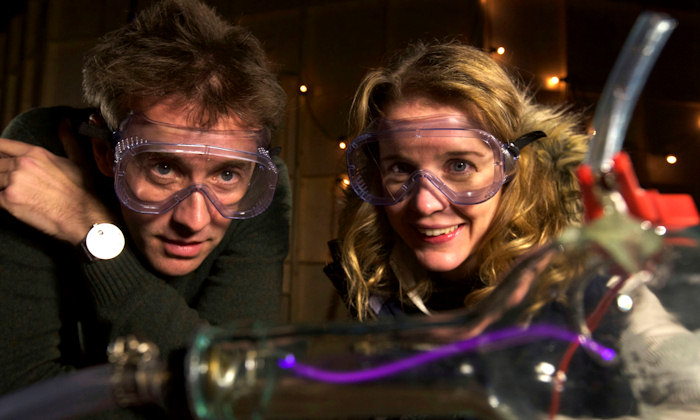 It all began with the famous words "This is the BBC, welcome to television", the rest is history.
Eighty years ago, the very first official live broadcast on British television came from Alexandra Palace on 2 November 1936, but there are no surviving recordings of it. In 'Television's Opening Night: How the Box was Born', Danielle, Dallas and Hugh work to restage every aspect of the show, from the cameras that were used, to the variety acts included and the outfits worn.  They use the original technology and filming techniques and interview some of the original stars of the show.
In 1936 there was a competition in two studios, between the cameras made by Marconi–EMI and John Logie Baird. While Dr Hunt focuses on John Logie Baird's 'Flying Spot', Danielle George was challenged to find out how the rival and highly experimental, all-electronic Marconi-EMI camera performed on its live TV debut.
 "I am delighted to have the opportunity to tell the story of the birth of British television by helping to restage the night that changed the world forever," said Danielle.
There is a special screening of 'Television's Opening Night: How the Box was Born' at the British Film Institute on 18 October 2016 followed by a panel discussion with Dallas Campbell, Hugh Hunt and Danielle George.
'Television's Opening Night: How The Box Was Born' will be broadcast on 2 November 2016 on BBC Four.
This latest TV appearance follows Danielle's successful role in delivering The 2014 Christmas Lectures in partnership with the BBC and the Royal institution.