Full closure of Brunswick Street announced
13 Oct 2016
Bringing you the latest on the closure of Brunswick Street, a reminder about the Oxford Road bus gate and news on other works affecting the campus area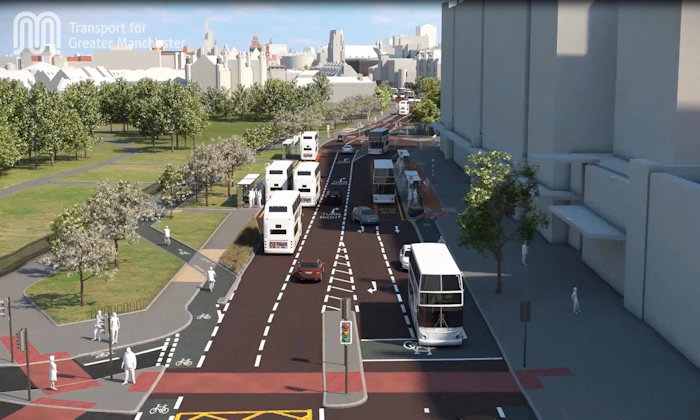 Here is a local access map to help you navigate the changes along Oxford Road:
Closure of Brunswick Street
On Monday, 10 October, TfGM implemented a permanent 'No Entry' restriction at the junction of Brunswick Street and Oxford Road to facilitate the Oxford Road Corridor works. This prohibits all vehicles from turning into Brunswick Street from Oxford Road. However, access is be maintained for cycles. The works to implement this change will include a temporary full closure of the junction from 14 to 22 October.
Additionally, from Wednesday, 19 October at 8am, access to Brunswick Street from Upper Brook Street will also be closed to enable the continued development of the Schuster Building. This closure will be maintained for the duration of the Schuster Building works (at least 12 months). Signage will be provided along Upper Brook Street to notify motorists.
Diversion routes will be put in place to enable pedestrians and cyclists to access Brunswick Street. Vehicles that require access to the frontage of buildings on Brunswick Street will be able to do so following prior arrangement via NGI off Booth Street or via the Chemistry service yard off Dover Street.
Oxford Road bus gate becomes fully operational
Remember, if you're driving into the city, there is a permanent change to Oxford Road between Hathersage Road and Denmark Road which prioritises buses, bikes and pedestrians. The introduction of the bus gate means that general traffic must turn right at Hathersage Road between 6am and 9pm, seven days a week.
Camera enforcement is in place and the City Council will issue penalty notices to all drivers contravening the bus gate.
NOTE: If you use Dover Street Car Park and want to head south, you are allowed to turn left onto Oxford Road past the Stopford Building despite the bus gate, but you must then turn left up Grafton Street.
Traffic congestion around Booth Street/Oxford Road junction
There is traffic congestion in the Booth Street/Oxford Street area, particularly in the morning and evening peaks, due to lane restrictions which have been introduced during the bus priority works and other developments. TfGM's Urban Traffic Control team are monitoring and actively managing the timing of the temporary signals on a daily basis. Every effort is being made to complete these works as quickly and safely as possible.
Work in other areas
Further up the corridor, work will start outside the Palace Hotel to introduce further cycle infrastructure. Northbound lane reductions are now in place between Charles Street and Whitworth Street, and a southbound contraflow lane will be introduced from Tuesday, 18 October. Pedestrian management on the footways will be in place while the work is carried out.