'Best New Charity' award for Manchester's Tutor Trust
05 Oct 2016
A Manchester charity involving more than a thousand University of Manchester students has won a major national award – the 'Best New Charity' at the 2016 Charity Times Awards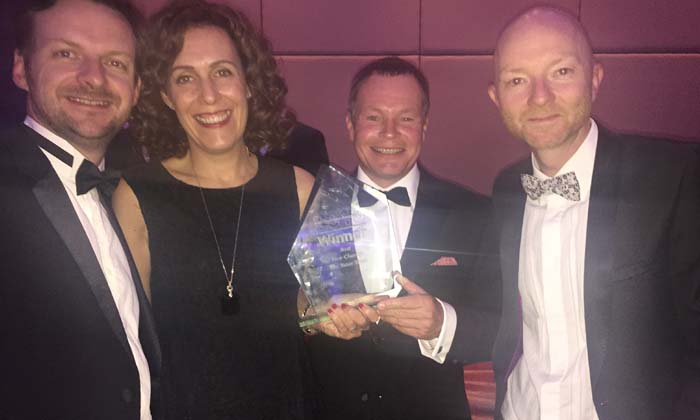 The prestigious awards ceremony was at the Park Plaza Westminster Bridge Hotel in London, and was attended by co-founders Abigail Shapiro and Nick Bent and Dr Julian Skyrme, the University's Director of Social Responsibility.
The judges were impressed with the charitable mission and quality of work in schools, which involves training University undergraduate student to tutor local pupils who need extra academic support.
Since the very first tuition session held in 2012, at Whalley Range High School in Manchester, students at the University have: 
Provided over 50,000 hours of academic tuition to schools
Supported over 10,000 pupils (mostly on free school meals or looked after children)
Worked with over 250 primary and secondary schools
Today, the Tutor Trust remains unique in Britain as a professional tuition service provider working exclusively with state schools and run on a strictly not-for-profit basis.  Students who work on the scheme are not volunteers – they are paid for their work and are trained by very experienced qualified teachers. 
Dr Julian Skyrme, Director of Social Responsibility, said: 
"This prestigious award is fitting recognition for the work of the Tutor Trust in providing high quality tuition to pupils who would otherwise not be able to afford it."
"Our student tutors gain from developing valuable skills that support their future employability; schools gain from improved examination results; but most of all, thousands of pupils in Manchester gain the opportunity to realise their full potential from the support of tutors."