Cancer medicine – the personal approach
06 Oct 2016
How personalised medicine could revolutionise how we're treated for illnesses in the future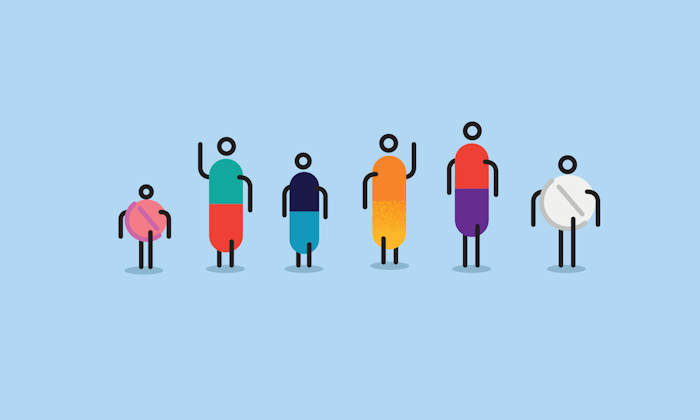 Personalised medicine could revolutionise how we're treated for illnesses in the future. What does this mean for how we treat cancer, a disease that affects so many?
More than 330,000 patients are diagnosed with cancer each year – this is forecast to rise to more than 435,000 by 2030. The survival rate in the UK today is 50% – in the 1970s, it was 25%.
And no two of us are the same. We may look remarkably like our parents, or make the same lifestyle choices as our friends. But ultimately, we're individuals. We want to be treated as such.
Cancer treats us as individuals. Our risk of developing many types of the disease is written into our DNA. Each cancer is unique in how it develops and grows, making it difficult to predict which treatment will work for which patient.
Personalised, or precision, medicine is all about treating the individual. At The University of Manchester, scientists are busy pioneering new approaches to make this a reality.
They're developing liquid biopsies to better identify cancer's biomarkers without the need for surgery. They're building a bank of living cancer tissue, and taking grafts from patients' tumours to run real-time experiments in the lab. Using modern DNA sequencing technologies, they're revealing cancer's weak spots.
Working with partners such as Cancer Research UK and The Christie NHS Foundation Trust, our researchers are already improving the lives of people with cancer.
Manchester has one of the largest early-phase clinical trials units in the world. One in five patients who visited The Christie in 2013/14 as an outpatient had taken part in research during their time as a Christie patient.
With this link to The Christie, one of Europe's largest cancer centres, and a number of other charities, the University is well placed to continue at the forefront of cancer research.
And with Greater Manchester taking on responsibility for its own health care budget, the University will be at the heart of innovative work that will benefit the region in personalised medicine, clinical trials and health data systems.
Part of our vision to accelerate 'made-to-measure' treatments for patients is the creation of a new research facility, the Centre for Cancer Biomarkers. This new building, which is receiving significant funding from philanthropists who share this vision, will act as a global hub for the progress of biomarker blood tests that will direct the individual treatment plans of the future.
Our scientists want personalised medicine to be everybody's medicine.
Cancer is one of our research beacons – read more at: