Economics professor named as one of the City's top 100 women
23 May 2016
Professor Diane Coyle from the School of Social Sciences has been honoured with being included on the inaugural City A.M. Power 100 Women list – a collation of a 100 leading women working in the City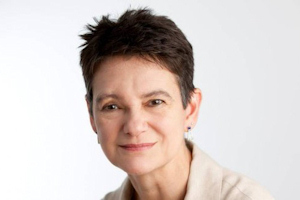 The list celebrates the leading women of London and identifies the 'ones to watch', including CEOs, entrepreneurs, economists and millennials, as well as those working in banking and finance, investment, law, technology and telecoms, property, and accountancy.
One of the first three people to be created Fellows of the Office for National Statistics (ONS), Diane has written several books and has held roles at the Treasury and the BBC Trust. She was awarded the OBE in 2009. On hearing that she had been included on this year's list, Diane said: "It's obviously incredibly pleasing to be listed alongside such distinguished women in business and finance, and I'm delighted but rather surprised to be in their company!"
The women were chosen on the basis of a number of qualitative characteristics, including the strength and power of position, number of people they manage, and wider impact on the sector. The full list can be found at:
Charles Yardley, COO of City A.M., said of the list: "As the definitive London business news organisation, City A.M. is proud to be launching this multi-platform initiative, which speaks to the strength and talent of London's leading ladies."
City A.M. has launched Power 100 Women as part of its continuing championing of women in the City and follows its first Power Women Breakfast panel on 17 May, whose participants were: Jayne-Anne Gadhia; CEO of RSM, Jean Stephens; Chief of Staff of Tech City, Caroline Makepeace; and Natalie Campbell, Founder of A Very Good Company.
Supporting the initiative, Secretary of State for Education and Minister for Women and Equalities, Nicky Morgan, said: "This inaugural Power 100 Women list is a really exciting measure of the growing recognition of women within the City. Having women in these prominent positions means that companies benefit from an enormous wealth of female talent as well as ensuring visible working role models for the next generation of girls.
"We have already come a long way but can still do more to make sure women everywhere are able to fulfil their potential. It is women like these, who are performing at the top of their game, and the men who work alongside them, who are in a position to make this possible throughout the UK at every level."
The Power 100 Women list, which is unranked, is compiled from research conducted by the City A.M. team and based on nominations made by companies in the city. 
Further information