An 80,000 word thesis takes 9 hours to present. Their time limit - 3 minutes!
23 May 2016
Three Minute Thesis (3MT®) Competition next month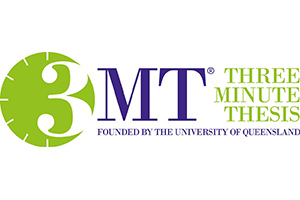 Wednesday 8 June 2 – 5pm, University Place Lecture Theatre A
What is 3MT?
The Three Minute Thesis ®(3MT) competition challenges doctoral candidates to present a compelling spoken presentation of their research topic and its significance. In just 3 minutes 12 researchers will attempt to make their thesis topic clear, compelling and entertaining.
Your Invitation
Please join us for the University of Manchester Final. Staff and students from across the University as well as the wider public are invited to attend this FREE event. 
A panel of expert judges will decide the £500 first prize winner and the £100 runner up winner but YOU get to vote for your favourite and award the £100 audience prize. Everyone is welcome. Bring your work-mates, bring your friends, bring your family!  
Free drinks reception. 
Booking
With thanks to Manchester Doctoral College, Faculty Training Teams and The Division of Development and Alumni Relations (DDAR) for their sponsorship.