Justine Greening leads debate on economic empowerment
23 May 2016
The Secretary of State for International Development, Justine Greening spoke about the economic empowerment of women at the Global Development Institute (GDI) on 19 May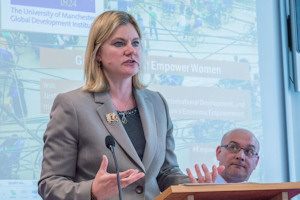 Ms Greening led an expert panel from the University, discussing how we can help women become economically empowered and the potential impact this could have around the world. 
The Secretary of State is a leading voice in the global quest for women's equality and a founding member of the UN Secretary General's High Level Panel on Women's Economic Empowerment.
She was joined on the panel by Professor David Hulme, Executive Director of the Global Development Institute, and Professor Stephanie Barrientos, GDI's Director of Social Responsibility. The event also gave Ms Greening the chance to engage with a diverse audience who were eager to take part, voice their opinions and share their experiences in relation to the empowerment debate. 
During the debate, the Secretary of State heard from young people about their own experiences of economic empowerment and any ideas for improvement they may have. 
As well as students and academics from the GDI, the audience was made up of around 60 delegates from organisations such as Women Worldwide, Women in Informal Employment: Globalizing and Organising (WIEGO) and the Princes Trust International. 
The audience's participation provided invaluable feedback for the Secretary of State to take back to UN panel and use it to 'jump start' the global movement on women's economic empowerment. 
The aim of the UN panel is to deliver concrete steps to enable women to fully participate and contribute to local and national economies, boosting progress towards the Sustainable Development Goals. 
Professor Hulme said: "We were chosen to host the event due to the Global Development Institute's outstanding reputation and work in the field of international gender equality and economic empowerment. 
"We'd like to thank the Secretary of State for asking the GDI to host the event and contribute to what is an immensely important debate, both in the UK and overseas. Economic equality and empowerment is one of the fundamental drivers of stability and inclusive growth for any nation's economy. The expertise and ideas of researchers can deliver concrete steps to help achieve such goals."