TfGM update on bus priority work on Oxford Road: changes to scheduling of work
16 May 2016
To coincide with the University's need to temporarily close part of Oxford Road for its campus redevelopment from 16 May, TfGM will also start the next phase of its bus priority work in the area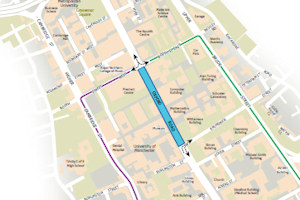 During the week beginning Monday 23 May, TfGM will be working to complete the first section of segregated 'Dutch style' cycle lane between Hathersage Road and Denmark Road. This work will tie in with the already constructed bus stop cycle bypass and the new pedestrian and cycle facilities in front of Whitworth Park. 
During this time only traffic heading out of the city centre will be able to drive along Oxford Road past the work site situated between Hathersage Road and Denmark Road. The inbound route through this section will be closed to enable the work to take place. 
Alternative routes in this area are available along Upper Brook Street and Hathersage Road while local access will be maintained from adjoining roads. Diversions will be clearly signposted for drivers while two-way movements for cyclists and pedestrians will also be maintained between Hathersage Road and Denmark Road during the bus priority works. 
Bus diversions are in place and details of the affected Oxford Road services will be posted at affected bus stops and available online at:
It is anticipated that work on this section, which includes some resurfacing activity, will conclude during the week of 6 June and its completion will mark the start of a permanent change to Oxford Road. From that week the road will be restricted between 6am and 9pm to prioritise buses, bikes and pedestrians, with access allowed for hackney carriages and emergency vehicles. 
General traffic heading towards the city centre from the Rusholme end of Oxford Road between 6am and 9pm will be required to use improved alternative routes on adjoining roads, including Hathersage Road and Upper Brook Street.
To raise awareness of the roadworks – and the permanent changes – there will be additional communications over the next few weeks and TfGM have created a helpful map so that drivers can see the new arrangements at:
Further information