Thai princess visits Manchester to find out about health research
13 May 2016
Professor Dr Her Royal Highness Princess Chulabhorn Mahidol, a royal princess of Thailand, visited the University on Wednesday to speak to researchers working at the cutting-edge of health sciences and explore new links between the UK and her home country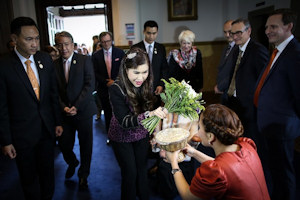 Her Royal Highness, who is the founder and president of the Princess Chulabhorn College of Medical Sciences, toured the University, meeting with the President and Vice-Chancellor, Professor Dame Nancy Rothwell and the Dean of the Faculty of Medical and Human Sciences, Professor Ian Greer.
The princess also met Thai students and academic staff, including Dr Roger Harrison, Director of Studies for Public Health at the University who has links with Thailand and toured lab facilities with Professor of Medicine and Endocrinology, David Ray.
 
She met leading educators and researchers at the cutting-edge of science and professional development, notably for population health, health data sciences, bioinformatics and medical sciences, to showcase how staff and students at The University excel in cutting-edge developments with the discovery and application of new interventions and the transfer of knowledge through to local people. Talks are ongoing between Manchester and Thai educational institutions to expand teaching of subjects such as public health into the country.
 
Part of the purpose of the visit was for the delegation, which also included a number of staff from the Princess Chulabhorn College of Medical Sciences, to investigate the possibility of more student exchanges and research partnerships around health care and other subjects.
 
Professor Rothwell said: "It was a great pleasure to meet Her Royal Highness and to have the chance to show her our facilities and some of the transformational research that goes on inside them. We are proud to be home to so many Thai students and the success of this meeting will certainly help us to strengthen those relationships with Thailand."
 
The University already has strong links in place with Thailand with Thai students on courses ranging from health, to business and engineering. The Thai student society is very active on campus and in the community, hosting events to showcase Thai culture to local people. There is active research collaboration across a number of areas such as robotics, aerospace and mechanical engineering.
The sciences hold a special interest for Her Royal Highness who studied chemistry and in 1979 graduated from the Faculty of Science at Kasetsart University. She went on to gain a PhD and was the first Asian to be invited to join the Royal Society of Chemistry in the United Kingdom.
Her Royal Highness is the youngest daughter of their Majesties King Bhumibol Adulyadej and Queen Sirikit of Thailand. She remains Professor of Chemistry at Mahidol University where she maintains research interests in the chemistry of natural products, Thai medicinal plants, environmental health problems in developing countries and cancer research. This has led her to found The Princess Chulabhorn Medical Science College - a new international institution which will begin to recruit students next year. The Medical Sciences College comprises of the School of Medicine and Public Health, the Office of Academic Affairs and Chulabhorn Hospital.
 
Professor Ian Greer said: "Her Royal Highness is a scientist of great repute and one who is dedicated to improving the lives of the Thai people through education and research. Our work in public health, cancer sciences and biology was all of great interest to her and, we hope, the beginning of many fruitful discussions."