University honours a father's loving legacy
12 May 2016
WATCH: Inspiring stories from the winners of our Volunteer of the Year awards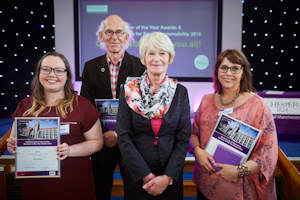 A bereaved father, who set up a charity following his aid worker daughter's death in Afghanistan, has won the University's Volunteer of the Year Award.
John Norgrove is a co-founder and trustee of the Linda Norgrove Foundation, which he established with his wife following the death of their daughter, Linda. She had been kidnapped while working as an aid-worker in Afghanistan and was killed during a failed rescue attempt.
Linda, who took her PhD at the University's Institute for Development Policy and Management between 1999 and 2003 under the supervision of Professor David Hulme, was posthumously awarded an outstanding alumni award by the University in 2011.
Now John (BSc Hons Civil Engineering, 1971) has been honoured in the alumni section of the annual Volunteer of the Year Awards, which recognise the outstanding volunteers in our University community and are affiliated to the Making a Difference Awards celebrating our Social Responsibility goal.
The charity – which passed the £1 million mark donated to Afghanistan last year – has supported female medical students with scholarships; provided widows with a sustainable source of income; funded an orphanage for disabled children; provided surgeries for dozens of the poorest Afghan children and much more.
John said: "I'm so delighted to have received this award, but the 'icing on the cake' is knowing that Linda would have been delighted as well.
"It's an award from the University where we both studied, and for helping women and children in Afghanistan, a cause that would have been so close to her heart."
Staff winner
School of Law lecturer Kirsty Keywood won the staff award for her 20 years of volunteering and leadership in support of people with learning disabilities or mental health problems.
Her work includes serving as a volunteer appropriate adult to the Greater Manchester Police and Crime Commissioner's Office, supporting young people and adults with mental health problems and learning disabilities who were detained in custody.
Kirsty was non-executive director of Natural Breaks, a respite service for people with learning disabilities, and adviser to Cartrefi Cymru, a charity providing accommodation and support to people with learning disabilities in Wales.
Described as "a great campaigner" as well as a "selfless and caring person", she is also setting up an advice clinic for service users at Manchester People First, an advocacy group run by and for adults with learning disabilities. Set up in 1992, it now has 500 members.
Student winner
Student winner was Sarah Brown, who is studying Linguistics and is Chair of Student Action, the volunteering arm of the Students' Union as well as volunteering directly on projects.
Sarah – who collected her award to a standing ovation from her fellow student volunteers – was nominated after totting up 186 hours on a variety of projects since September. As one friend put it: "She literally spends more time helping others and in the students union than she does at home!  She's amazing!"
Her work includes leading People with People, a project which involves planning and running a weekly activities evening for a group of adults who have learning disabilities or autism; volunteering locally with Retrak, an international charity which supports children who are living on the streets to be able to access housing, education and employment; volunteering for The Life Foundation, a non-profit organisation founded by University students, which works to support disabled children and adults who are living in government care homes in Romania; and is a voluntary trained Dementia Friends Champion.
President and Vice-Chancellor Professor Nancy Rothwell said the awards, which see the winners receive the University Medal for Social Responsibility and a donation to their charity, "lets us hear some remarkable stories from our staff, students and alumni."
Watch
To learn more about our award-winners, watch: