London Network: EU Referendum Debate
11 May 2016
Share with your networks: Alumni are invited to a debate chaired by Sky News' Ian King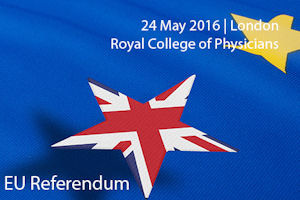 London Network: EU Referendum Debate Tuesday, 24 May, The Royal College of Physicians, 7pm
On 23 June, the country will settle a question that has sat close to the surface of British politics for a generation: should the UK remain within the European Union, or leave the organisation and go it alone. Both sides insist that the outcome of the vote will settle the matter of Britain's EU membership for the foreseeable future. Alumni of the University of Manchester sit at the heart of the debate - with influencers in the world of politics, business and media adding their voice on both sides - and now we are inviting you to join us for an evening of debate with some of these key players.
Join us on Tuesday, 24 May 2016 at 7pm for welcome drinks and canapes, to be followed at 8pm by a debate chaired by Sky News' Ian King. The event will take place at The Royal College of Physicians' meeting rooms, close to Great Portland Street station, and will close with an opportunity for further networking at 9.30pm.
Ian will joined by be key influencers from the world of politics, business and academia:
Dinesh Dhamija - Founder, ebookers.com and Copper Beech Group Nick Finegold - Founder & Executive Chairman, Curation Corporation Andrew Russell - Professor of Politics, The University of Manchester Graham Stringer - Member of Parliament, Blackley and Broughton One further panellist will be confirmed shortly - be sure to follow us on Twitter for more details as they become available.
Alumni of The University of Manchester are invited to join these key players for an evening of informed debate.
As we expect demand for this event to be high we will also be live streaming the debate and hope that many alumni who are not able to be with us in person will be able to join us online and make their voices heard through our social media channels. You can register to be notified of further details of the online event below, or by following us on Twitter, where we will be facilitating questions from users and sharing details of the stream using the hashtag #McrEUref.
We expect this event to sell out very quickly.  You are welcome to bring one guest with you. 
Booking