Students talking trash in bid to boost recycling on campus
10 May 2016
A group of Manchester students have been talking trash outside the Student's Union – with the aim of raising awareness of recycling on campus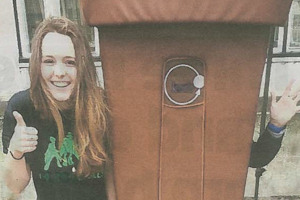 The University undergraduates created a long term project to benefit the local environment and boost recycling among their peers. The scheme will also help to cut Manchester's disposal bill by making sure that less recyclable waste goes to landfill. 
Dubbing themselves The Recyclables, the team surveyed 200 students to find out how much they recycled. Karolina Dimitrova from the team said: "We found most people knew how important recycling is but some were confused about what they could recycle and some didn't know they could recycle food waste."
The team dressed as recycle bins on Oxford Road and gave out 60 kitchen caddies for recycle waste. People posed for selfies with them and where given leaflets and further information on how best to recycle. The team also visited a recycle plant to see how waste is processed. 
They discovered that contaminated recyclables cause major problems for processing, so putting waste in the correct bins is important. The team are now conducting a final survey to measure the project's success. Their efforts will continue as the team have now recruited three student Recycle Ambassadors. 
Councillor Nigel Murphy, Manchester Council's Executive Member for Neighbourhoods said: "They have done a fantastic job of raising awareness of recycling. If all the food waste in Manchester was recycled, the city could save £10m a year in waste disposal costs."