Impact of University's 3,000 alumni volunteers celebrated
10 May 2016
The impact that our 3,000 alumni volunteers have had on our current students over the past year was celebrated at a special event to thank those who give up their time for the University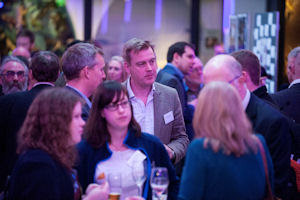 Speaking at the reception at Manchester Museum, Professor Clive Agnew, Vice-President for Teaching, Learning and Students, told guests that the University's alumni volunteering programme - one of the largest in the UK - benefits over 7,000 students annually through mentoring programmes, networking events, Q&As, the Global Graduates programme, recruitment fairs and careers profiles.
In a tougher recruitment environment, volunteers have an important role to play in inspiring the next generation of graduates. After meeting with alumni volunteers over the past year:
• 99% of students were motivated to take action regarding their career;
• 97% of students became more confident about their career;                                                          
• 89% of students learned about careers that they didn't know were an option.
Our alumni volunteers also benefit their local communities. The University of Manchester is one of the largest recruiters of school governors in the UK, with over 400 alumni governing in local state schools – and also returning to offer advice at  their former state schools with Future First.
Third-year Maths student Aimee Li was at the reception to thank our alumni volunteers for their time at careers events. She said: 
"These events have given me an insight into different career paths people can take, further motivation to work abroad in the future, and a push to start building up a solid foundation for success in the future.
"I've loved the alumni experiences that I have been involved in and I have truly benefitted from them, and I want to thank each and every one of you for making such events possible, and your generosity and kindness."