Watch out for a (friendly) wolf on campus
10 May 2016
Student safety campaign with teeth - thanks to its impressive mascot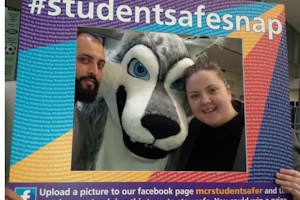 Look out for a wolf on campus – he is the fearsome mascot for the student safety campaign 'wary of light fingers' (WOLF).
WOLF is part of the Halls 2 Home Project and focuses on educating students on personal safety both on and off campus.
Manchester Student Homes (MSH) has designed four mediums of promotional merchandise, including Wolfie themed masks and hand stamps reminding student to be careful when using ATM machines and Wolfie logo bugs advising students not to walk home alone. Finally there are mobile phone themed mint boxes that contain information and a link to the Immobilise website, where anyone can register their electrical goods.
These were handed out – along with advice – at events hosted by MSH in partnership with Greater Manchester Police (GMP) here on campus, and at Manchester Metropolitan University and Sainsbury's Fallowfield.
The events were a huge success and enjoyed by both students and staff alike, while Wolfie attracted a lot of attention.
More information
For more information about the WOLF campaign, email Community Cohesion Intern Josh Payne: