AMBS represented in the IBM Universities Business Challenge 2016 Grand Final
09 May 2016
The Universities Business Challenge Worldwide is the world's longest established and leading undergraduate simulation-based competition.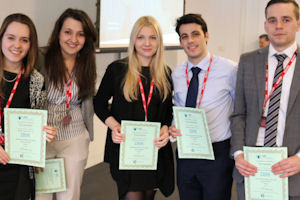 Since it began in 1998, Manchester has been in the finals a record-breaking five times. Impressively four of the six teams entered by the University into the competition this year made it through to the semi-finals - with one going all the way on to the Grand final at IBM's Southbank HQ on 17 March.
We salute Diana Moldovan, Ana Irene Bujosa, Karolina Dimitrova, Aristos Michaelides, Niilo Saranpaa for their magnificent achievement. Also their AMBS colleagues some of whom came very close to joining them.