TfGM update on bus priority work on Oxford Road
09 May 2016
Traffic management arrangements and bus stop closures for week commencing 9 May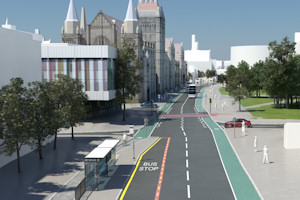 Transport for Greater Manchester (TFGM) have sent us a schedule of work taking place on Oxford Road until the end of May. A weekly update will be published on StaffNet News to inform you of the traffic management arrangements in place for the following week to help you plan your journeys to and from work.
As with any major engineering project, there may be changes to the schedule as the result of unforeseen circumstances and TfGM will of course update us if any changes do take place.
Below are the traffic management arrangements in place for the week commencing Monday, 9 May 2016:
Phase 1
Wilmslow Road/Hathersage Road/Oxford Road junction
No right turn onto Oxford Road from Hathersage Road from 9 April indefinitely. This is as per the final scheme arrangement.
Oxford Road (Hathersage Road to Denmark Road)
Southbound bus lane to be suspended during the works.
Northbound and Southbound, single lane running maintained for duration of the works.
Phase 2
Oxford Road (Denmark Road to Grafton Street)
Off-carriageway cycle lane closed until final scheme implementation.
Localised pedestrian management in place.
Phase 3
Oxford Street (Whitworth Street to Portland Street)
Northbound, third running lane on Oxford Street closed indefinitely to prevent vehicle grounding on newly constructed central island.
Future works
Phases 1-3 of the bus priority works are currently in progress. The planned schedule for phases 4 to 6 can be seen at: