Major Graphene exhibition
05 May 2016
A major new exhibition, Wonder Materials: Graphene and Beyond, making its world premiere at the Museum of Science and Industry (MOSI) this summer, tells the story of graphene, the world's first two-dimensional material which was isolated by scientists in Manchester. The exhibition is free to all.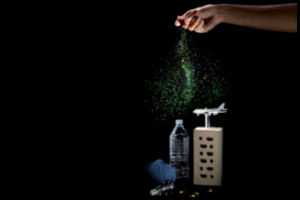 This ground-breaking show will combine science, art and history to reveal the inspiring story of one of the strongest, lightest and most conductive materials in the world. Made from a single, one-atom layer of carbon, graphene is invisible to the naked eye but has the potential to change the world in a host of areas from energy and electronics to healthcare and mobile phones.
Wonder Materials takes the audience on a scientific journey of discovery, through the past, present and into the imagined future of this new material landscape. A combination of fascinating objects, photographs, music, films and newly commissioned artworks will illuminate the people and places involved.
Highlights of the exhibition include:
 A fascinating array of objects which bring the graphene story to life; from early pencils and an Elizabethan cannonball to the famous sticky tape dispenser which began the story of graphene's isolation
An investigation into the scientific breakthroughs made by scientists and professionals at the cutting edge of graphene use around the world
A specially commissioned art installation by Random International, the collective's first public commission in the UK since their internationally acclaimed Rain Room premiered at the Barbican in 2012;
A provocative new work by acclaimed poet Lemn Sissay MBE (Chancellor, University of Manchester), who is composing a call-to-arms on the potential future for graphene – and its possible effects on humanity;
An interactive exhibit where audiences are invited to imagine the remarkable graphene products of the future - from clothing with built-in computer power to electricity-generating windows.
The exhibition is created by the Museum of Science and Industry in partnership with the National Graphene Institute at The University of Manchester. It is a flagship event of Manchester's programme as European City of Science 2016. It opens to coincide with the EuroScience Open Forum Manchester 2016* (23-27 July), Europe's largest interdisciplinary science meeting.
Museum of Science and Industry Director Sally MacDonald said: "We're very excited to be launching the premiere of this fascinating exhibition into the material of the moment – and in what better place to open than Manchester, where graphene was isolated at the University of Manchester, and during the city's year as European City of Science.
Wonder Materials: Graphene and Beyond will be accompanied by a year-round programme for adults, families and schools, including hands-on science events, evening science socials,  "in conversation" style events and creative workshops. The exhibition will tour nationally and internationally, including going to the Science Museum, London, in 2018.
James Baker, Graphene Business Director at The University of Manchester, said: "We are delighted to have partnered with the Museum of Science and Industry on this exciting exhibition. Graphene's story began here in Manchester, and the city continues to play a leading role in graphene's development. This exhibition will showcase the current research that is being undertaken, not only here but on a global scale, to realise graphene's potential."