Diana Mitlin becomes managing director of the Global Development Institute
03 May 2016
Uma Kothari will step down after her three year term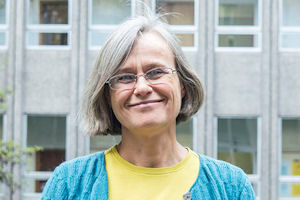 Professor Diana Mitlin has taken over from Professor Uma Kothari as managing director of the Global Development Institute (GDI). The role of managing director is a three academic year term.
After gaining her undergraduate degree in economics and sociology at The University of Manchester, Diana worked for the Forestry Commission and the Monopolies and Mergers Commission, before joining the International Institute for Environment and Development (IIED) in 1989. From that point, development became the major focus of her work, particularly on issues related to towns and cities in the Global South.
Diana joined The University of Manchester in 2001 teaching part time at the Institute for Development Policy and Management (IDPM) whilst maintaining a senior research post at the IIED. She currently serves as a trustee for the Urban Poor Fund and continues to work closely with two networks of Southern citizen networks and NGOs, Shack/Slum Dwellers International and the Asian Coalition for Housing Rights.
Diana's research focuses on urban inequality and poverty, and urban poverty reduction, in particular in the area of secure tenure, basic services and housing including shelter finance.
After leading the formation of the Global Development Institute, Uma Kothari will focus on new research on migrants, refugees and asylum seekers.
David Hulme, executive director of the GDI said; "I would like to thank Uma for her tireless and inspirational work over the past three years. Her vision and energy played a crucial role in founding the Global Development Institute, which combines the strengths of the Institute for Development Policy and Management and the Brooks World Poverty Institute.
I would also like to welcome Diana to her new role as managing director of the Global Development Institute. We are privileged to have such a well-respected colleague in the role, who brings a real commitment to tackling global inequalities to help achieve a more socially-just world."