University honours two former members of Board of Governors
05 May 2016
Medal of Honour presented to Robert Hough CBE, DL and Gerry Yeung OBE, DL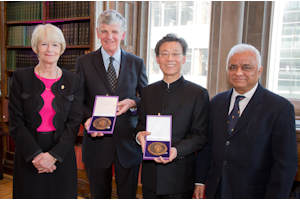 Two former members of the Board of Governors were honoured at a special ceremony where they received Medals of Honour, the highest accolade the University bestows.
President and Vice-Chancellor Nancy Rothwell presented the medals to Robert Hough CBE, DL and Gerry Yeung OBE, DL.
Professor Rothwell described both Robert and Gerry as exemplary Governors and excellent examples of 'critical friends' to the University, prepared to challenge senior management, where necessary, while being supportive throughout their sustained tenures.
In addition to being highly successful in their business careers – Robert is the property developer behind the Trafford Centre and Media City and Gerry the owner of Manchester's famed Yang Sing restaurant – both have given and continue to give exceptional voluntary service to the city of Manchester and the region more widely.  They have served on many influential Boards in diverse fields and have generously supported a number of charities.
In terms of their involvement with the University, Robert joined the Board in 2005 and was a member for a decade.  He became Deputy Chair in 2012 and latterly was Chair of the Staffing Committee. Prior to his appointment to the Board, Robert also served on the Finance Committee where his skills and expertise were highly valued.
Gerry became a Governor in 2007 and was a member of the Remuneration Committee and Audit Committee.  Up until his term ended in 2013, Gerry oversaw numerous appeal processes on the Board's behalf, dealing with these in a consummate manner.