Bus priority package – the transformation of Oxford Road begins
29 Jan 2016
When the main phase of the Oxford Road scheme begins on Monday, 1 February, all traffic movements will be maintained despite a reduction in road capacity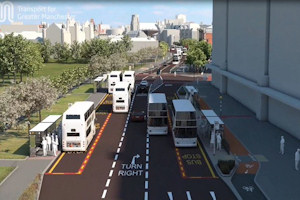 Transport for Greater Manchester (TfGM) in partnership with Manchester City Council are working together to revolutionise the way people travel across the city centre, in particular the Oxford Road corridor.
The start of the main phase of the Oxford Road scheme is a major landmark in the transformative Grow project. Grow is seeing more than £1 billion invested in city centre infrastructure improvements by 2017, including the Metrolink Second City Crossing, bus priority package, six new and better cycle routes into the city centre and major rail improvements.
As part of the bus priority package, Oxford Road is being transformed into a new 'boulevard' environment which prioritises buses, cyclists and pedestrians. The introduction of 'Dutch-style' cycle lanes will make it easier and safer for cyclists to travel along Oxford Road – separating them from buses – and bus services along one of Europe's busiest bus corridors will have shorter journey times and become more punctual and reliable.
Beginning on Monday, 1 February, the works will start at the Hathersage Road junction, near to Whitworth Park. The work will require the reduction of the westbound Hathersage Road approach to one lane for a period of approximately eight weeks. During this time all traffic movements will still be possible, however, road capacity will be reduced.
At the same time, the outbound bus lane that runs between Denmark Road and the Hathersage Road junction will be removed to provide a safe working space, meaning that buses will share the lane with general traffic. This work is expected to take four weeks to complete. Again, during this time all traffic movements will be maintained.
The permanent changes to Oxford Road will see a bus, hackney carriage, emergency vehicle and cycle-only section created between Hathersage Road and Grosvenor Road. This section will be closed to all other traffic between the hours of 6am and 9pm, seven days a week. General traffic can use Upper Brook Street as an alternate route into the heart of the city centre.
Drivers will already be used to driving in the city along the widened Upper Brook Street and the newly-created two-way working on Princess Street, introduced in preparation for the permanent changes to Oxford Road.
Further information
For more information on the changes or the wider bus priority package: