Invitation to take part in 'Humans of Humanities' Photography Project
29 Jan 2016
Are you a budding photographer?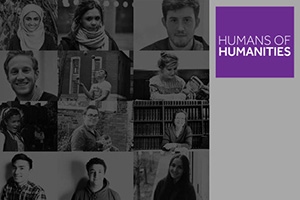 If so, you are invited to take part in the 'Humans of Humanities' project, capturing the everyday life of students and staff within the Faculty of Humanities at The University of Manchester.
The project is open to all staff and students from across the University and will involve capturing 'street style' photography complemented by a caption, based on a short conversation with the person featured in the image.
The project is inspired by the 'Humans of New York project' created by American photographer Brandon Stanton (humansofnewyork.com). It will provide an insight into the lives of people associated with the Faculty of Humanities.
'Humans of Humanities' will culminate in June 2016 with an exhibition on campus, displaying the images selected.
Why get involved?
The project will offer you an opportunity to gain and showcase your photography skills
You will build a creative photography portfolio
You could see your work displayed on campus in the 'Humans of Humanities' exhibition
Further information