Staff ID number - an extra digit is on its way
27 Jan 2016
IT Services are running a large project on the SPOT ID (Single Point Of Truth IDentifier). This work is essential to accommodate new staff and students, so we've supplied information to address potential questions.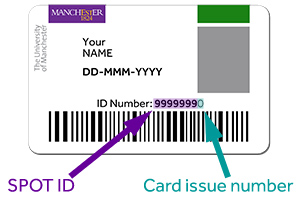 What is a SPOT ID?
The SPOT ID is a unique 7 digit number used to identify staff and students. It is more commonly known as the staff, student or person number and appears on University ID cards.
Looking at the picture on the right, you can see that a University ID card number is made up of two items; the SPOT ID and the issue number. If you get a replacement card (for example, due to losing your card) then the issue number may increase by 1. The issue number is printed in a lighter typeface.
Examples of systems and services which use the SPOT ID are:
Systems which use your University card, such as the libraries, car parks, bicycle sheds, building access and Food In Advance
Payroll and expenses payments
My Manchester login authentication
Integration between core systems and faculty systems
Timetables
Blackboard
Tuition and accommodation fees
and many other systems.
What's happening with the SPOT ID?
Very soon, the SPOT ID number will reach the end of its 7 digit range and automatically roll over to 8 digits. A project has been under way to confirm that all systems which use SPOT IDs will run as expected when that number changes. If any issues are found, the project will ensure that fixes are applied and tested, or work-arounds are in place to mitigate any risk of disruption to the University.
When will this happen?
Current calculations indicate that by mid-March this year, the SPOT ID will roll over from 7 to 8 digits. However, to reduce potential impact, we'll be switching over to 8 digits on Monday 15 February 2016 at approximately 7am.
Who will this affect?
The SPOT ID numbers of existing staff and students will not be affected. Initially, the number of 8 digit SPOT IDs generated will be small, due to the number of students and staff joining the University in February. This project is taking place to reduce the risk of issues, however we will be ready to deal with any problems if they arise.
What do I need to do?
If you encounter any difficulties with new students or staff who join the University after Monday 15 February 2016, it doesn't necessarily mean that there's a problem with the SPOT ID, but it's worth letting us know, just in case.
Please telephone our IT Support Centre on 0161 306 5544. Telephoning the Support Centre will allow us to deal with any potential issue quickly, rather than a request raised online.
IT Services