Ballroom and Latin for Beginners: Free Taster Session
26 Jan 2016
On Wednesday 2 March 2016, at the Martin Harris Centre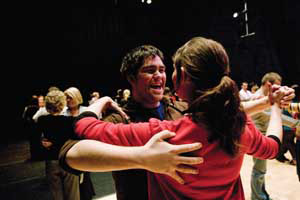 Try our 'Ballroom and Latin for Beginners' free taster session to get a flavour for some of your favourite Ballroom dances in a relaxed and friendly environment.
The taster session will be delivered by Mark Rowbottom, the owner and principal of "Steppin' Out Dance Centre" and who has more than twenty years dance experience. Within the taster class you will receive expert tuition on two of the standard Ballroom and Latin dances: Waltz and Cha Cha Cha. You do not need a partner to join the taster class.
This Ballroom taster class is a great opportunity to try the class and ask the tutor any questions you may have before deciding whether or not to sign up to the 'Ballroom and Latin for Beginners' course. This is an 8-week course that will take place at the Martin Harris Centre in autumn 2016.
These classes form part of the University's wellbeing initiative.
To Book: 
The taster session is FREE, but booking is essential.
Please book early, as places are strictly limited and allocated on a first come, first served basis.
There will be two 30 minute taster sessions and these will both take place on Wednesday 2 March 2016 at 1pm-1.30pm and 1.30pm-2.00pm
To reserve your place please call Box Office on tel 0161 275 8951 (2-4pm weekdays) stating which of the two free sessions you would prefer to join.
Further information: