Alumna Anilena sets up violence prevention lab in Panama
20 Jan 2016
Recent Psychology PhD graduate, Anilena Mejia, is now setting up a research lab in her home country with significant Panamanian government investment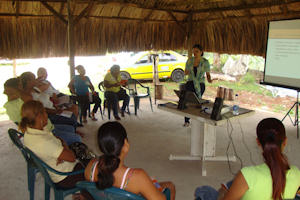 Violence is a pressing issue in Latin America. Throughout her postgraduate studies at the University of Manchester, Dr Anilena Mejia explored ways for protecting families and children from violence and other difficulties as early as possible. 
Recent alumni and awardee of the Sue Fielder Memorial Prize from the School of Psychological Sciences, Dr Mejia is now establishing and leading a research lab on violence prevention in her home country, Panama.
Fully funded by the National Secretariat of Science, Technology and Innovation in Panama (SENACYT), the newly established lab will be based at the Scientific Investigation Institute and High End Technology (INDICASAT) located in the renowned City of Knowledge, just 400 meters away from the Panama Canal locks. 
Working in close collaboration with communities and local advocates, Dr Mejia is planning both applied and basic research on violence prevention, such as designing and testing preventive interventions that are appropriate to the local and regional reality, understanding factors contributing to youth crime using cohort designs, and exploring epigenetic marks from early exposure to high levels of neighbourhood violence and adversity.