LITERATURE LIVE: Ian McGuire and Rupert Thomson
18 Jan 2016
Monday 8 February, 6.30pm, at the Martin Harris Centre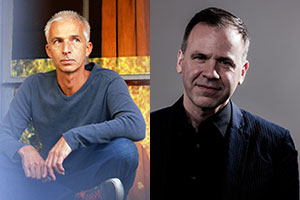 Ian McGuire grew up near Hull and studied at the University of Manchester and the University of Virginia, USA. He is co-founder and co-director of the University of Manchester's Centre for New Writing. His stories have been published in the Chicago Review, Paris Review and elsewhere. His first novel was the contemporary campus satire Incredible Bodies.
This event is the launch of his second novel The North Water, an historical novel set amidst the nineteenth-century arctic whaling industry. The North Water has been described by Booker Prize winner Hilary Mantel as 'Brilliant. A fast-paced, gripping story set in a world where 'why?' is not a question and murder happens on a whim; but where a faint ray of grace and hope lights up the landscape of salt and blood and ice. A tour de force of narrative tension and a masterful reconstruction of a lost world'.
Ian McGuire will be joined in this event by Rupert Thomson, who is the author of ten critically acclaimed novels, including The Insult, which was shortlisted for the Guardian Fiction Prize and chosen by David Bowie as one of his Top 100 Must-Read books of all time, and Death of a Murderer, which was shortlisted for the Costa Prize. His memoir, This Party's Got to Stop, won the Writers' Guild Non Fiction Book of the Year. His most recent novel, Katherine Carlyle, was published in November 2015.
To book:
Tickets are priced at £6 / £4 and are available from:
Martin Harris Centre Box Office 0161 275 8951 (2-4pm weekdays) or
Online at Quaytickets
Further Information: