Postgraduate Taught Experience Survey: Promotional materials now available
11 Jan 2016
The national survey launches on 1 February, for all taught postgrads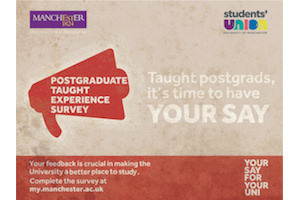 The Postgraduate Taught Experience Survey (PTES) launches on Monday, 1 February. Open to the majority of taught postgrad students, the survey is one of the most important and useful ways for students to tell us about their experience of studying and living in Manchester.
You can support the survey by promoting it to your students, whether you work in an Academic school or in an extra-curricular service.
Promotional materials are available now through the Student Communications and Marketing team. A digital download pack, containing digital materials including screensaver, email signature, digital signage and Powerpoint slides, can be downloaded from the Supporting Students section of StaffNet:
As well as the digital materials, posters in a range of sizes will be distributed to Academic schools and other high-traffic areas. Physical materials are very limited, but you can print more copies using the artwork provided in the download pack.
Further information
For more information about the PTES, and how to promote it with your students, please see: