Join the run commute
07 Jan 2016
Get fit while getting to work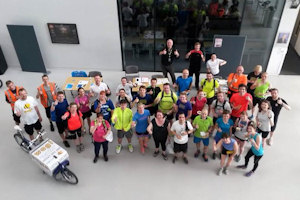 After launching last year, UMRun - the run commute group of The University of Manchester - is now back for monthly action.
The purpose of the group is to support those who benefit from using their commute to work as a way of fitting exercise into their daily routine, saving money and enjoying their passion.
The group is not just for established runners - we also welcome with open arms those who have decided that now is the time to get started. We are here support newcomers of all abilities. Everyone is welcome.
You don't have to run your whole commute to be part of the group, as we know this would be out of the question for a lot of people. Maybe you get off the train one stop earlier than your final destination and run/jog the rest of the way to work. Maybe you prefer only to run/jog home. Whatever your preferred method, if you run commute in any capacity, you can join in the fun.
Want to find out more why not see out webpage:
Here you can find useful links to showers and FAQs.
If you would like to be added to the UMRun mailing list, please email:
You can also find us on:
Free breakfast
For those of you ready to kick off the New Year in style and break in those new running shoes, the University's run-commute free breakfast event is back! For 2016 this will be happening on the last Thursday of every month – the next one is on Thursday, 28 January and you're all invited. Run to work and receive a FREE breakfast!
To join us for breakfast on 28 January 2016, sign up at:
The Morrisons Great Manchester 10K Run
If you need an incentive to start running or return to running, why  not consider taking up the University's offer of discounted entry to the Morrisons Great Manchester 10K Run and be one of the University's 1000 runners.