Oxford Road transformation
05 Jan 2016
Preparatory work has begun around Denmark Road, Whitworth Park and the hospital site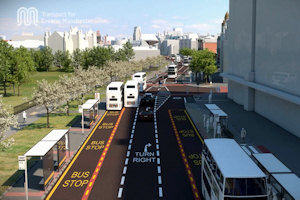 Transport for Greater Manchester (TfGM) in partnership with Manchester City Council are working together to revolutionise the way people travel across the city centre, in particular the Oxford Road corridor.
Preparatory work has now begun around Denmark Road, Whitworth Park and the hospital site in preparation of the main highway work beginning at the end of January.
Oxford Road is being transformed into a new 'boulevard' environment which prioritises buses, cyclists and pedestrians and includes 'Dutch-style' cycle lanes to separate cyclists from buses along one of Europe's busiest bus corridors.
As part of the scheme, which will see a congestion-busting bus and cycle-only section created between Hathersage Road and Grosvenor Street, more than 140 new semi-mature trees grown in specialist nurseries will be planted. This is around three times as many as those which have to be removed in preparatory works to make way for the transformation.
A wider variety of trees, including exotic species not usually found on British streets such as Japanese cherries, sweet gum trees and gingko will be planted and contribute to a more attractive boulevard-style streetscape. Hundreds of shrubs, ornamental grasses and flowers will also be planted along the route – providing bursts of colour throughout the year. 
Works have been phased to avoid revision time for students. 
Another key city centre route – Portland Street – is also seeing work undertaken and is closed to all traffic between New York Street and Newton Street.
The bus priority package will significantly improve the quality, punctuality and reliability of bus services on 25 miles of key routes in Greater Manchester. The scheme, which is being delivered in partnership with Manchester City Council, will limit general traffic along sections of Oxford Road and include over 4km of segregated bus lanes.
More information
For more information on the changes or the wider bus priority package, contact TfGM on: