Gwen Riley Jones launches The Piccadilly Records Book
27 Oct 2015
On Friday, 30 October, legendary Manchester record shop Piccadilly Records will hold the launch of a book by the University Library's senior photographer at Northern Quarter hangout Kosmonaut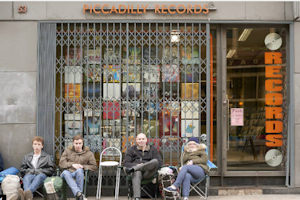 Celebrating 25 years as Manchester's leading independent record shop, The Piccadilly Records Book is a tribute to a thriving vinyl sub-culture, which has survived against all the odds.
Self-published by Gwen and Michael Riley Jones, the photo book looks at the people who have made the shop so special. Alongside current and ex-staff, the book features a host of Manchester musicians and DJs including Johnny Marr, Marc Riley, Tim Burgess and Duncan Wallis (of Dutch Uncles) and regular customers, all of whom have played an integral role in the history of the shop.
Richard Hector-Jones, who wrote the book's introduction, comments: "This book is a testament to the Piccadilly Records attitude to business. It's not about just the staff who work there or the 'pop' stars and DJs who pass through. It's about the music lovers who come in on a regular basis, putting money through the tills and buying all those inspiring albums."
The launch will be free entry, no ticket required. The launch will feature Piccadilly Records DJs plus sets from special guests (all featured in the book). The book will be sold on the evening for a special price of £10, usual price £12.99 (available from Piccadilly Records).
Further information
For more information, please visit: