Dentistry lecturer is a winner at Asian Professional Awards
23 Oct 2015
Dr Mohammad-Adel Moufti, a lecturer from the School of Dentistry has won one of this year's Asian Professional Awards, which honour the outstanding achievements of Asian professionals nationwide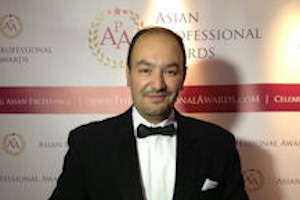 Dr Moufti was presented with his award for Dentistry by Dr Catherine Brady of the GDC (General Dental Council) at a black tie ceremony at the Grange City Hotel in London on 9 October.
He was one of 10 winners out of just under 4,000 nominations and votes received for the annual awards that pay tribute to inspirational individuals from the Asian community who contribute in every conceivable sector of national life. Categories include Banking, Dentistry, Public Service, Pharmacy, Design and Creative, Education, IT and Technology, Legal, Medical, and Media.
Dr Moufti holds an intensive research-led teaching role within the University that involves the annual supervision of over 20 research projects on the MSc programme in Restorative and Aesthetic Dentistry. He is also an Examiner at the Royal College of Surgeons of Edinburgh.
Throughout his career he has taught hundreds of UK and overseas students at the undergraduate and postgraduate levels. His passion for teaching and supporting his students has been highlighted in student surveys.
Dr Moufti's research has been widely published and has been recognised by three prestigious international awards in the UK, Australia, as well as the International Association of Dental Research (IADR) in USA. In 2011 he was one of 25 worldwide recipients who were awarded an annual scholarship from a Switzerland-based scientific organisation (ITI) to pursue a year-long clinical training in the field of implant dentistry.
Outside the University, Adel is a keen supporter of fellow academics in Asia and the middle-east. He has helped in Research Capacity Development in different countries as a Board Member of the IADR's Research Development Programme.
He currently plays an active role in supporting fellow doctors in conflict zones, and in helping refugee doctors and dentists resume their professional life and career in the UK.
Commenting on the awards, Adel said: "The APA is designed to celebrate and honour the very best of Asian achievement across a range of professional sectors. The highly competitive award was judged this year by a panel of eminent professionals including a University Vice Chancellor, the GMC, GDC, and the Royal Pharmaceutical Society. This means a lot to me as a Syrian-born and trained dentist who managed to excel in his career, and to become a proud member of a great institution like the University of Manchester. This recognition has a touching significance with the current hardship in Syria".
Ahead of the awards, the Rt Hon David Cameron MP, Prime Minister and Leader of the Conservatives said, "These awards recognise just some of the many thousands of Asian professionals who are excelling in Britain today. Whether it's in the court room, the newsroom or the classroom, Asian men and women are not only providing expert services, skills and capabilities; they are delivering for Britain too."
Further information
A full list of categories and winners can be found online at: