Winter Warmers - new donation point on south campus
23 Oct 2015
Help the homeless and vulnerable people in our city this winter with Lifeshare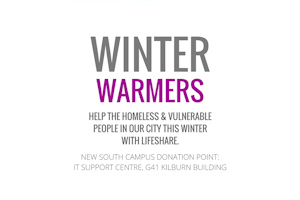 'Winter Warmers' is your chance to clear out your wardrobe and food cupboards and donate items to local charity, Lifeshare. 
Due to a high level of interest, the MECD Faculty Project team has arranged with the IT Support Centre team to set-up a donation point in the Kilburn Building on south campus.
Anybody wishing to donate items and are unable to get to the Sackville Street Building are encouraged to drop-off their items to the IT Support Centre, G41 Kilburn Building.
The charity are in need of the following items:
Food and drink: tea, coffee, sugar, cereals, instant noodles, pasta, beans, rice, tuna, tinned meats and meals (e.g. soups, curry, chilli, meatballs and hotdogs);
Clothes: Socks, jeans, coats, trainers, jumpers, hoodies, hats, scarves, gloves, backpacks, sleeping bags and blankets.
Pop your items in a bag and drop them off at either of the following points: 
MECD: B43, Sackville Street Building, North Campus
IT Support Centre: G41 Kilburn Building, South Campus
If you are able to display a poster in your area, please download:
Further information
If you have any questions, please email:
Keep up to date with MECD on Twitter: