Honorary Chair for Sir Peter Fahy
23 Oct 2015
Former chief constable of Greater Manchester Police is our Honorary Professor of Criminal Justice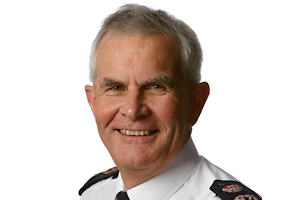 The School of Law is delighted to appoint Sir Peter Fahy as an Honorary Professor of Criminal Justice.  
This Friday is Sir Peter's last working day as chief constable of Greater Manchester Police (GMP). In July he announced his retirement after serving 34 years as a police officer, including 13 of them as a chief constable in Cheshire and Greater Manchester. 
For the last three years Sir Peter has given a series of lectures at the School of Law on policing and counter-terrorism. His new role in the University will formalise this arrangement and provide students with a unique insight into one of the largest police services in the UK.  
Speaking about the appointment, Sir Peter said: "I am very honoured to be awarded this position because the University plays such an important part in the life of the city and of course has an international reputation. I am looking forward to having more time to contribute to research and to debate on criminal justice issues and in particular the protection of children. Being a chief constable has given me many different experiences and I welcome the chance to reflect on these and the opportunities that devolution is opening up." 
Professor Toby Seddon, head of the School of Law, said: "I am delighted Sir Peter Fahy has joined our School.  He is already proving to be a popular speaker with our students in the School of Law and this post will ensure that they will continue to be challenged by his perspectives on policing and criminal justice reform."
On 11 November, Sir Peter will deliver his first public lecture at the University following his departure from GMP – it promises to be a unique opportunity for Sir Peter to reflect on his rich and varied experiences of policing and public service. 
Aside from his position at the University, Sir Peter will become chief executive of the Stockport based street kid's charity Retrak. Over the past five years Sir Peter has worked with the charity on a voluntary basis with teams of GMP staff and colleagues from the Fire Service traveling to Uganda and Ethiopia to work with street children there. The move enables him to continue with his interest in child protection and child welfare issues in this country.