Hear the stories behind our war memorials on Armistice Day
21 Oct 2015
To mark Armistice Day on 11 November, and as part the University's World War One centenary activities, this event will focus on the stories behind the University's memorials to those lost during the conflict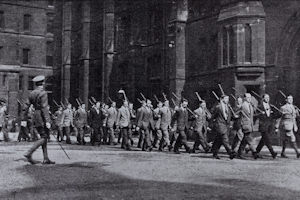 The event will feature two talks about the men and women listed on our war memorials who died in WW1.
Pen Richardson has been researching the biographies of those listed in the University's Roll of Honour and on its memorials. She will describe how the individual stories of over 600 individuals lost by the University during the War are being uncovered throughout the centenary period and published in the month they died 100 years ago. She will bring to life some of the fascinating stories unearthed from the Roll of Honour so far, including famous scientists and little known painters.
Susan Pares is the great niece of Gertrude Powicke, an early female graduate of the University. In 1911, Gertrude Powicke graduated from the University of Manchester. A few years later, like many of her male fellow graduates she left for France. Her work was with the Friends' War Victims' Relief Committee, among French refugees, and she spent four years from June 1915 in north eastern France, to the rear of the front line. In August 1919 she accepted the Society of Friends' invitation to join its Polish unit, to work initially in the Polish government's campaign against the typhus epidemic threatening the country. Gertrude travelled with two colleagues to what was then Eastern Galicia to inspect conditions.  There she contracted typhus herself and died in December 1919, soon after her return to Warsaw, where she is buried. Gertrude was in the habit of keeping diaries, and her story is told through these and correspondence with her family.
Registration
Register for the event here: