"Grandchildren of Hiroshima" - a talk by Jonathan Petherbridge
21 Oct 2015
Wednesday 28 October, 2.15pm, at the Martin Harris Centre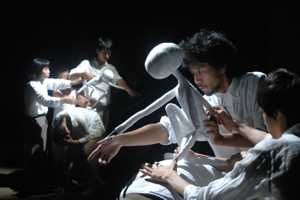 Jonathan Petherbridge is Creative Director of London Bubble Theatre Company, with whom he has worked since 1990. The company creates theatre with, and for local people. Since 2008, he has been working with inter-generational groups drawn from communities in London and Japan, developing original, co-created performances through a process he calls 'Foraging'. Starting with conversations between elders and children, these projects are then developed through workshops towards a form of vernacular theatre that benefits both communities and audiences.
This year, he worked on a project marking the 70th anniversary of the dropping of the first atom bomb on Hiroshima. In this illustrated talk, he describes how an inter-generational Japanese cast worked together on the project, and demonstrates some of the images and methods used.
Further information: 
Please note that this event is exclusively for University of Manchester students and staff.
Admission is free, on a first come first served basis. No advance booking required.