Two students win Martin Harris Prize for Cultural Engagement
21 Oct 2015
Prize for significant contribution to engagement of disadvantaged groups in our University's cultural life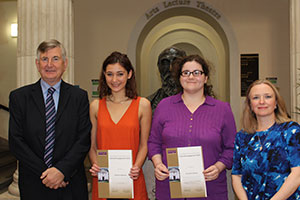 The 2015 Martin Harris Prize for Cultural Engagement has been awarded to two students who have made the most significant contribution to activities which have facilitated the engagement of communities outside the university in the cultural life of the University of Manchester.
The prize-giving giving took place on Wednesday 14 October 2015 and prizes were awarded by Sir Martin Harris, former University Vice-Chancellor and after whom the prize was named.
The two students who were awarded prizes were: (left to right) Catherine Belcher (Drama and English) and Elizabeth Gibson (Integrated Professional Masters in Languages: French and Spanish).
Catherine Belcher made links between performance at the University of Manchester and local fringe theatre makers. She produced a show with her theatre company, 'JustTalk Theatre', at The Kings Arms in Salford that used a collaboration of current students, graduates and local actors. This production received positive reviews and made local audiences aware of the talent stemming from the UoM. Building from this achievement, she is planning a series of events in the Northern Quarter which aim to raise money for charity, whilst forging valuable connections between the community and university, and encourages the city to celebrate the high standard of work that the Drama society produces.
Elizabeth did much to reach out to a wide audience outside of the University. She was a French Peer Mentor and helped to organise various cultural events linking the university and the community; she was a volunteer with Multilingual Manchester, going out in the local community to make a film about the different languages spoken in Manchester; she joined the Adopt-a-Class scheme and was assigned a Year Nine class at Bellerive College, Liverpool, visiting the school and spoke to the pupils about herpath to studying languages and she was a Digital Reporter for the Manchester Literature Festival in 2012 and 2013 and a Young Curator at Cornerhouse.
The School of Arts, Languages and Cultures initiated the Martin Harris Prize for Cultural Engagement in October 2013 in celebration of the tenth anniversary of the Martin Harris Centre, and the competition will run again into 2015/2016.